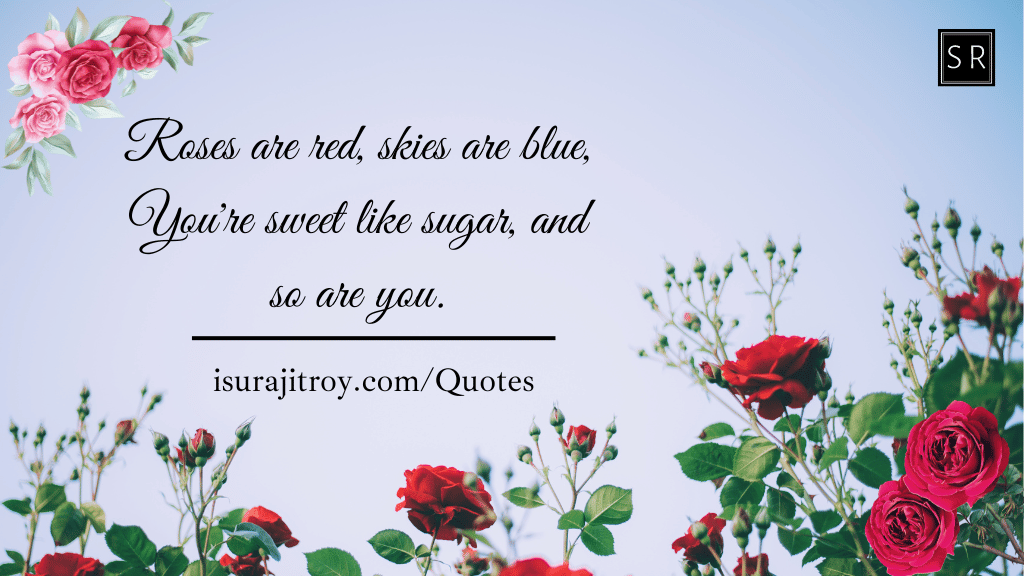 Rose Day marks the beginning of the Valentine's week, celebrated on 7th February every year. It is the time to express love and admiration for the special one in life, by gifting a red rose as a symbol of love and affection. It is the day of expressing love in the sweetest and simplest way possible, without uttering a single word.
Rose Day Wishing Message Quotes
Rose Day wishing messages are a great way to show your love and care. It is a great opportunity to tell your beloved how much they mean to you. Rose Day quotes and messages can be heartfelt and meaningful. They can be simple and sweet. They can be funny and playful. Sending the right message can make your beloved feel truly special and loved. Rose Day is the perfect occasion to tell your beloved how much you appreciate them and how much they mean to you. So, don't forget to spread the love and send a wonderful Rose Day wishing message.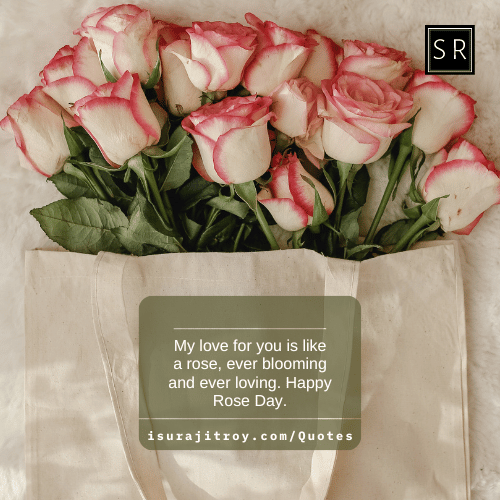 [ On this special Rose Day, I want to express my love for you and thank you for being in my life. You are the light of my life and I will love you forever. ]
[ My heart smiles when I think of your beauty. It radiates within me, bringing light to my life and joy to my soul. You are my source of inspiration and happiness. Whenever I'm feeling down, I think of you and my day is instantly brighter. Your beauty is a gift and I am so thankful to have it in my life. ]
The Rose flower is one of the most beautiful and beloved flowers in the world. It is known for its delicate petals and mesmerizing fragrance. It is a symbol of love and affection and can be used in everyday life. Rose petals and rose water are used in the beauty industry for making face masks and other skin care products. Rose essential oil is used in aromatherapy to provide relaxation and a sense of well–being. Rose tea is a popular beverage and is known to help with digestive issues. Rose petals are also used in cooking and baking to add flavour and aroma to dishes. Rose petals can also be used to make decorations and bouquets. Rose is a lovely flower that can be used for many purposes in everyday life. It is an excellent addition to any garden or home and can be enjoyed for its beauty and uses.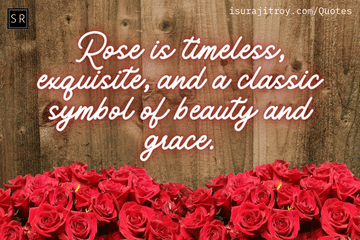 [ Rose is a timeless symbol of beauty and grace, embraced by cultures around the world throughout history. Its exquisite, delicate petals and sweet fragrance have enchanted people for centuries, making it a classic and beloved flower. Its unique beauty and elegance make it the perfect choice for a variety of occasions, from expressing love and appreciation to decorating a home or garden. Its timelessness ensures it will remain a symbol of beauty and grace for years to come. ]
[ A single rose is enough to remind me of the beauty of nature. It can be a representation of my garden that I can be proud of. A single friend, on the other hand, can be my world. They can provide endless love and support that I can rely on and cherish. Having both a rose and a friend can be a reminder that I am blessed and needs to be thankful for the small things in life. ]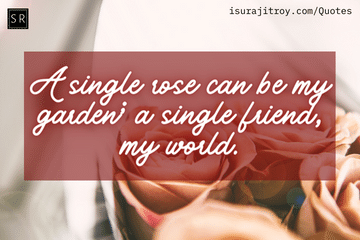 Rose Quotes About Natural Beauty
People also give yellow roses to show friendship and appreciation, pink roses for admiration, white roses for peace and orange roses for enthusiasm. Rose Day is a special day to celebrate the beauty and freshness of love and romance. It is a day to remember the beautiful moments shared and how love can bring couples closer.
[ Love bloomed and brought sweet joy to the world in the form of a rose, planted with care and love. Its beauty captivated, its fragrance enchanted. It was a symbol of the love that can grow and blossom in the world, and how it can bring sweet joy and peace. Its petals were soft and delicate, its thorns a reminder of how love can be both beautiful and painful. The rose was a reminder of the joy that love brings and the need to cultivate it and nourish it with care. ]
[ A gentle reminder of beauty, resilience and strength in the face of adversity is so important. Even in the darkest and most difficult of times, we can find beauty, resilience and strength to carry us through. We can find moments of peace, joy and hope, no matter how bleak the situation. We all have the potential to persevere and remain strong, no matter the adversity. A gentle reminder can be all we need to keep going and stay positive. ]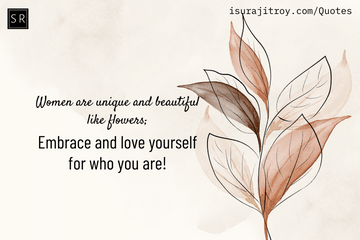 [ Women are unique and beautiful like flowers; we come in different shapes and sizes, each with our own unique set of characteristics. Our unique beauty should be embraced and celebrated. We should learn to love and be proud of who we are, flaws and all. We should not compare ourselves to others, but instead find the beauty in ourselves and others. At the end of the day, the most important thing is to love yourself for who you are and to be kind to yourself. ]
A single red rose is the traditional gift, but roses in any color can be given to show different emotions. Roses are even used for apologies or to make amends. Rose Day is a day to acknowledge the beauty and power of love.