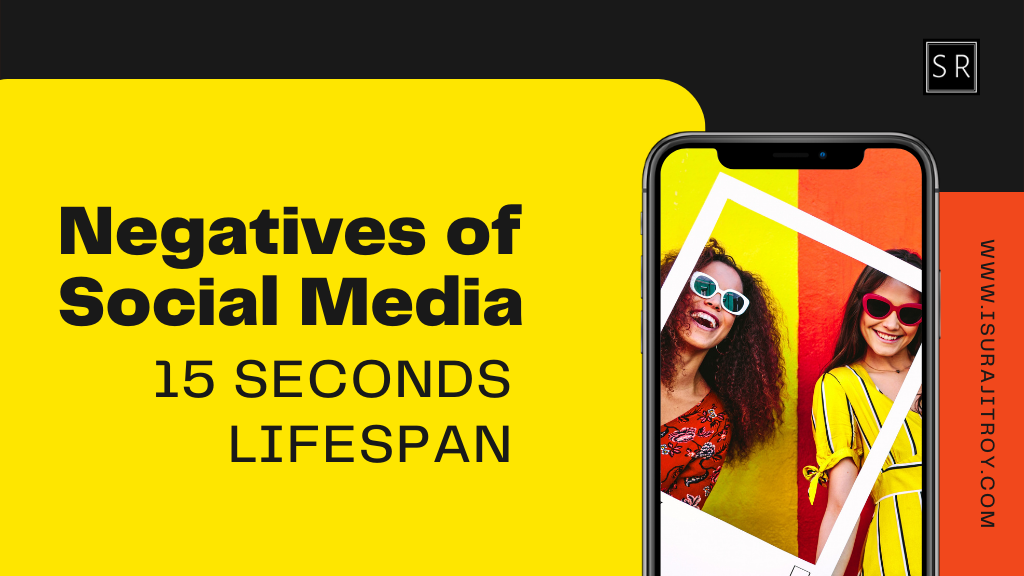 It's not difficult to see a time in the future when the constant barrage of quick video clips on social media drastically reduces our longevity. According to a new study, social media is mostly to blame for the growth in young adults' mental health problems.
It can be exhausting to constantly be bombarded with images and videos, and it's simple to get caught up in contrasting our own lives with others' allegedly ideal ones. This may result in low self-esteem and sadness, which may then provoke risky behaviors like self-harm and drug abuse.
It's vital to take a step back and keep in mind that what we see on social media is frequently not a true representation of reality in a world where we are continuously assaulted with images and videos. Disconnect from your electronics, give yourself some alone time, and concentrate on the things that are most important in life.
A study, conducted by the "Korea Science", looked at the effects of social media on mental health. The researchers found that users of short video platforms such as Vine and Snapchat are more likely to experience anxiety, addiction and poor subjective well-being. The study surveyed more than 274 people between the major ages of 18 and 34. The participants were asked about their social media use, psychological well-being and any diagnoses of anxiety or addiction. [ Ref. URL – 1 ]
Social media has a reputation for being addictive. Checking for new likes, comments, and notifications all the time can be very time consuming. Because of this, an increasing number of young people are adopting methods to control their usage of social media. It's understandable that many people are deciding to withdraw from the platforms due to the continual pressure to depict a "perfect" life.
Setting time restrictions is a well-liked tactic. Setting limits can help you maintain control over your usage, whether it's restricting your usage to 30 minutes per day or designating specific days of the week as social media-free days. [ Ref. URL – 2 ]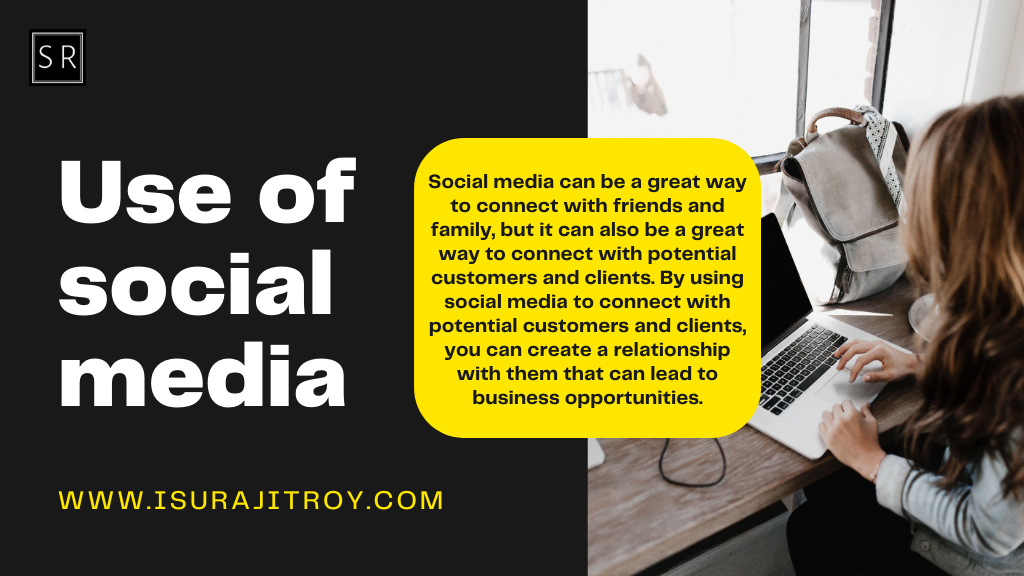 Social media is an essential component of our lives today. We use it to pass the time, keep up with current events, and remain in touch with our friends and family. But did you realise that social media can be a powerful marketing tool as well?
That's correct, companies of all sizes are embracing social media more and more to connect with their target markets and advertise their goods and services. And there are numerous approaches of accomplishing this.
For example, you can use social media to:
Write insightful blog entries or articles that benefit your readers and advance your brand.
Post pictures and videos of your goods and services in use.
Create live events or webinars, then advertise them on social media.
Use social media to advertise to your ideal clients.
plus a lot more!
The fact remains that social media is a potent marketing tool that you should unquestionably be utilising in your company. And if you need assistance getting started, there are several resources available to assist you.
Statistics on social media and mental health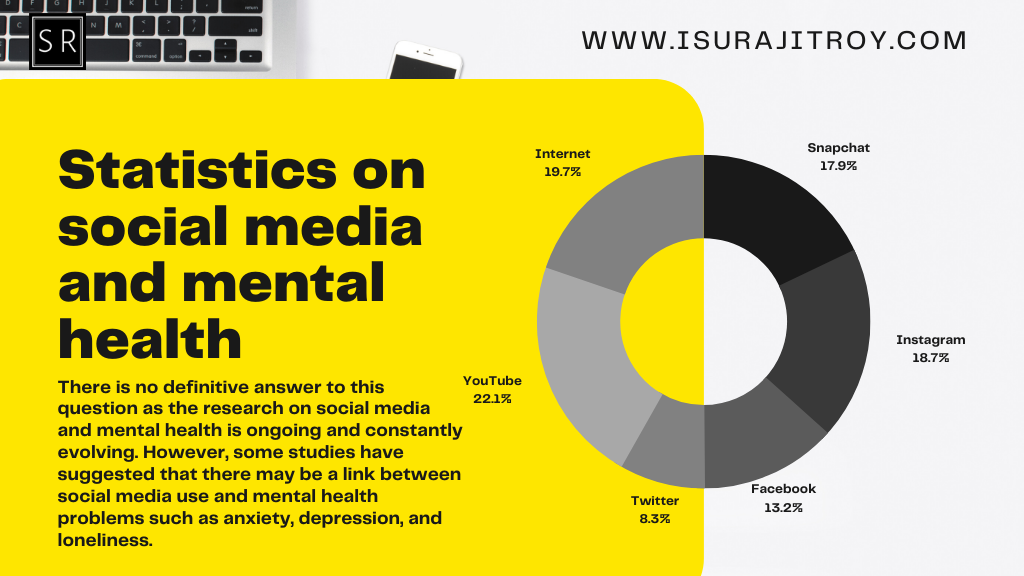 Social media has a complicated effect on one's mental health. It's effects are mixed, both good and bad. One the one hand, social networking may be a terrific tool for maintaining relationships with loved ones, learning about current affairs, and even advancing one's job. Contrarily, it could also cause worry and anxiety. Use of social media, particularly among young adults, has been linked in studies to elevated levels of anxiety and depression. This is probably because social media comparisons between users can cause low self-esteem and feelings of inadequacy. Social media can have unintended consequences, so it's critical to be aware of them and to avoid them when possible. [ Ref. –  URL 2 ]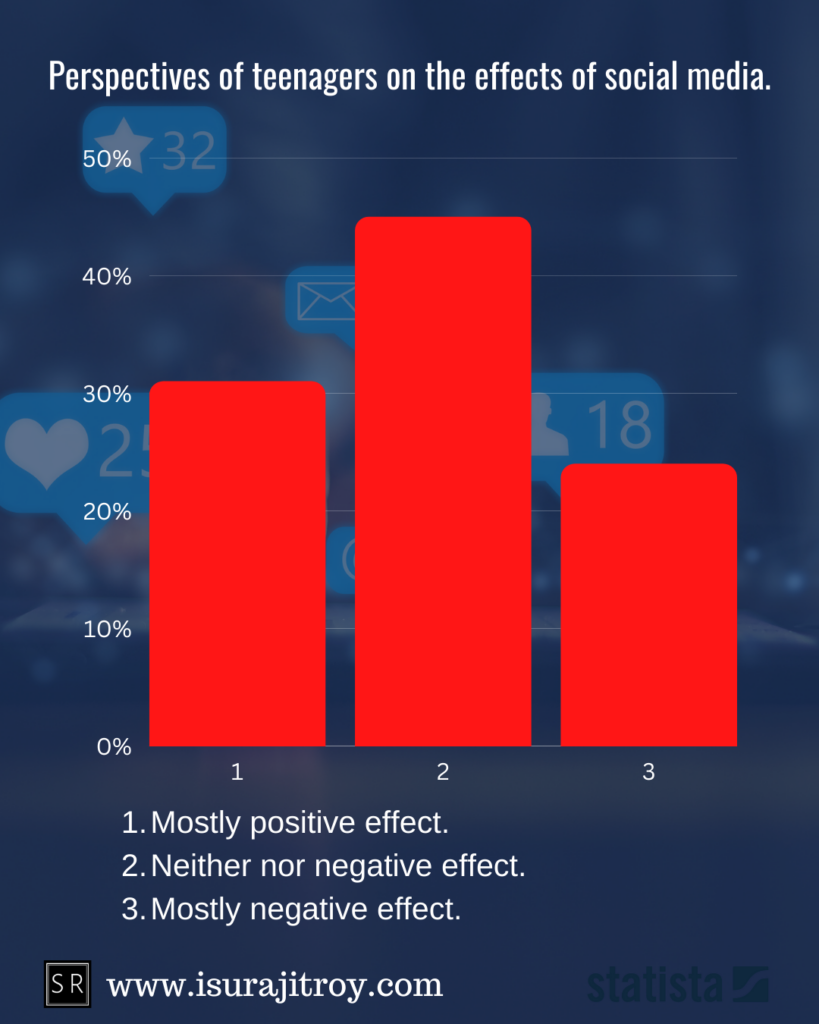 Perspectives of teenagers on the effects of social media.
This statistic reveals how American teenagers feel about social media. According to the research, 31% of teenagers believe social media has a primarily beneficial impact on people their own age, as opposed to 24% who believe it has a negative impact. [ Ref. URL – 3 ]
Since the last poll in 2014–2015, fewer teenagers are using social media. This is due to the fact that more teenagers now own cellphones and use them for various purposes, such as continuous online use.
According to the survey, individuals are unsure of whether social media has a good or bad impact on today's youth. Some individuals believe it to be either positive or negative, while others believe it to be neither.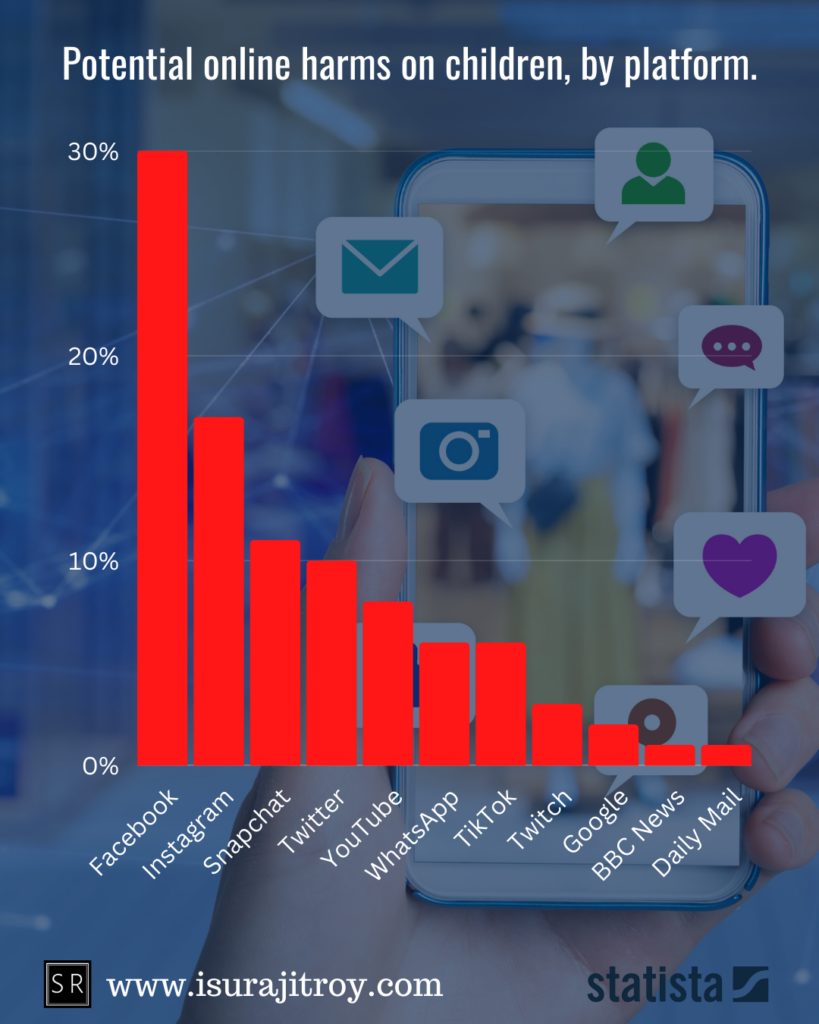 Potential online harms on children, by platform.
On social media, some kids in the UK have had negative experiences. A study found that 30% of children who use Facebook have experienced possible internet damage there most recently. 10% of respondents stated it happened on Twitter, while 17% said their most recent encounter of online violence happened on Instagram. [ Ref. URL – 4 ]
Compared to 2019, there were less social media-related controversies in 2020. Instead of covering stories like Molly Russell's passing and the Christchurch terrorist attacks, the press was preoccupied with the election's aftermath and Brexit.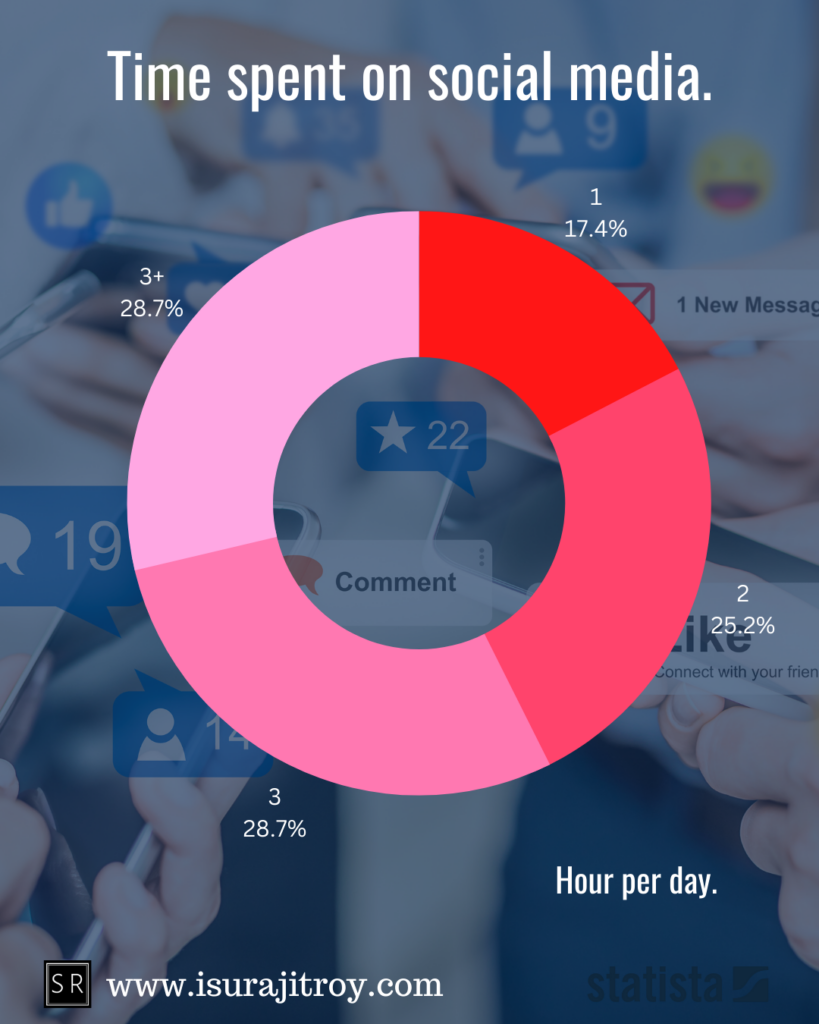 Time spent on social media.
People who use social media more regularly are more enthusiastic about how it affects social welfare, according to the poll. Only 20% of those who use social media for only one hour believe it has a negative impact on social well-being, compared to 33% of people who use it for more than three hours. [ Ref. URL – 5 ]
Well-being may mean various things to different individuals. It is sometimes referred to as the "mind, body, and soul." Others could characterise it as having a strong sense of place or living in a lovely environment.
Having a sense of purpose, feeling connected to others, and being in good bodily and psychological health make up well-being.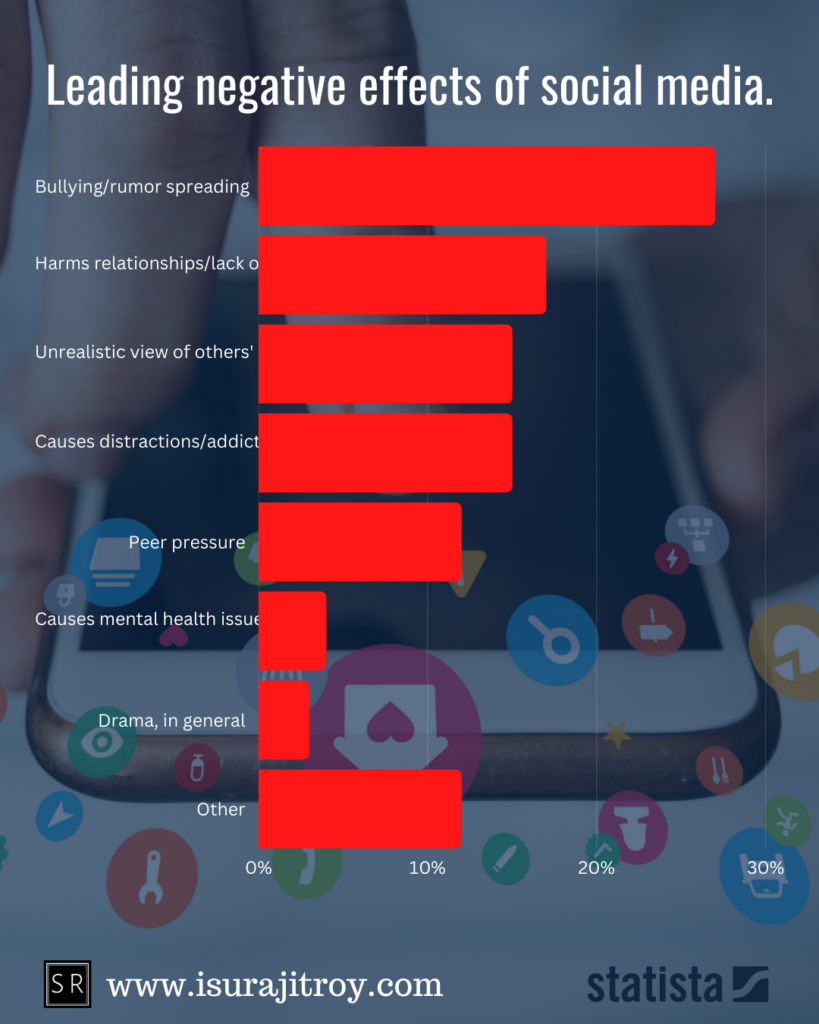 Leading negative effects of social media.
According to the report, 27% of American youths believe that bullying and/or rumour spreading are the most detrimental effects of social media on people their age. [ Ref. URL – 6 ]
The majority of teenagers think that social media hasn't had much of an impact on young people. Others think it's had a detrimental impact, while some think it's had a favourable one.
Almost every teenager has access to or owns a smartphone. This indicates that far more teenagers now own smartphones than did so a few years ago. No matter who they are, all teenagers seem to own or be able to purchase a smartphone.
Teenagers who have parents with college degrees are more likely to have access to computers than teenagers whose parents only have a high school education.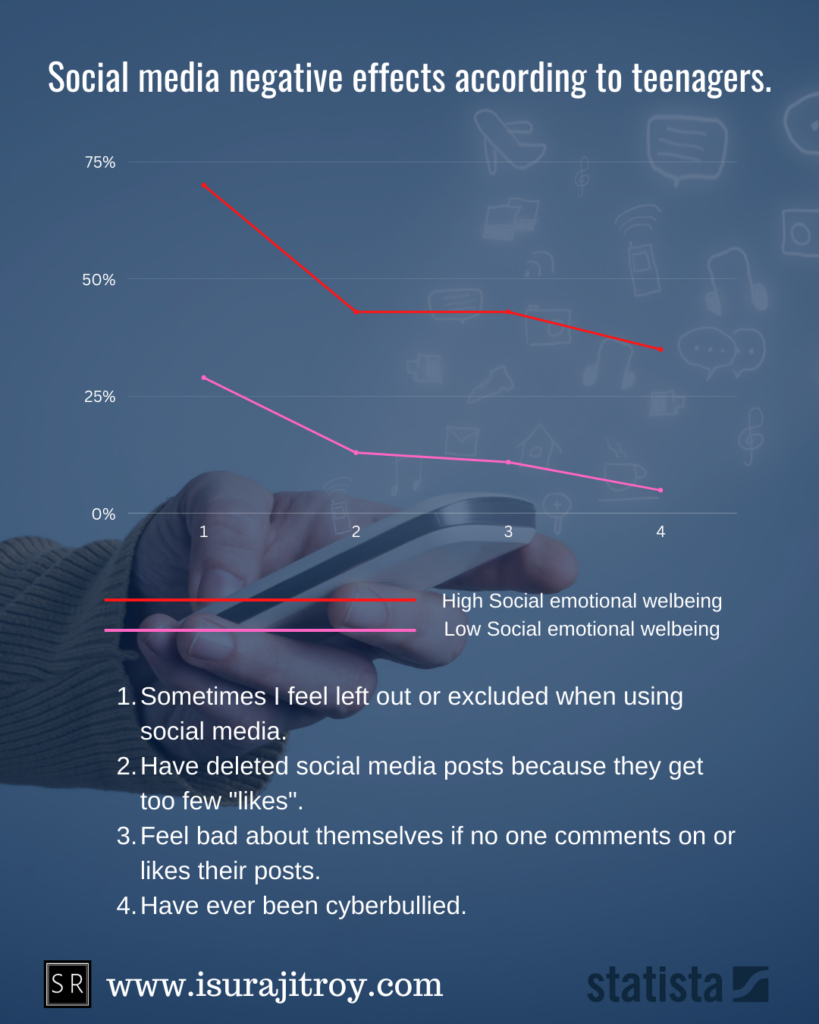 Social media negative effects according to teenagers.
This statistic reveals the impact social media has on teenagers' emotional health. The results showed that 35 percent of teenagers with low social emotional functioning reported experiencing cyberbullying while using social media, compared to only 5 percent of teenagers with strong social emotional functioning. [ Ref. URL – 7 ]
Teenagers frequently think that social media negatively impacts their life. They consider social media to be a time waster, addictive, and a source of cyberbullying. Additionally, they think that social media can have a negative effect on their physical image and mental health.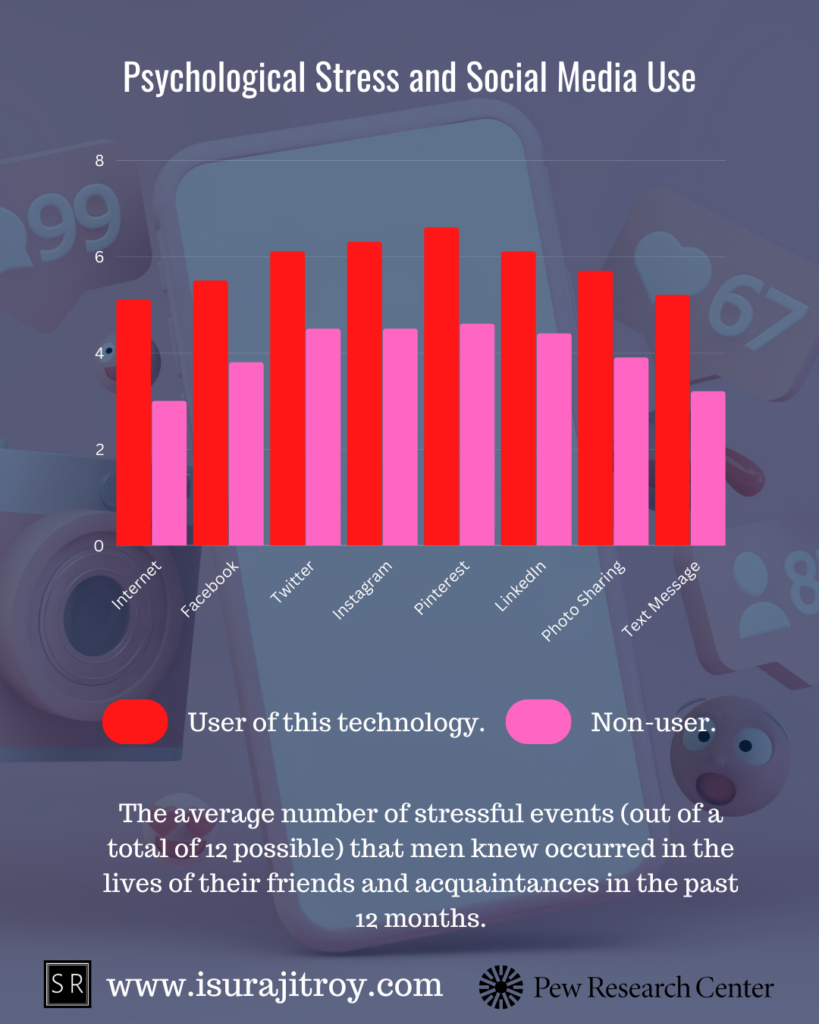 Psychological stress and social media use.
Due to the increased flow of information into people's life, digital technology can be stressful. It is simpler to keep tabs on what friends, adversaries, and enemies are doing, but this can be stressful and demanding. [ Ref. URL – 8 ]
This study examines if utilising digital technology, such as smartphones or laptops, can increase feelings of stress. They assessed stress levels and questioned participants about their feelings.
On the PSS, the typical American adult received a score of 10.2 out of 30. The average amount of stress reported by women is much higher than that of men. On the PSS, the average woman gets 10.5 whereas the average guy only manages 9.13. Men reported 7% lower stress levels on average than women did.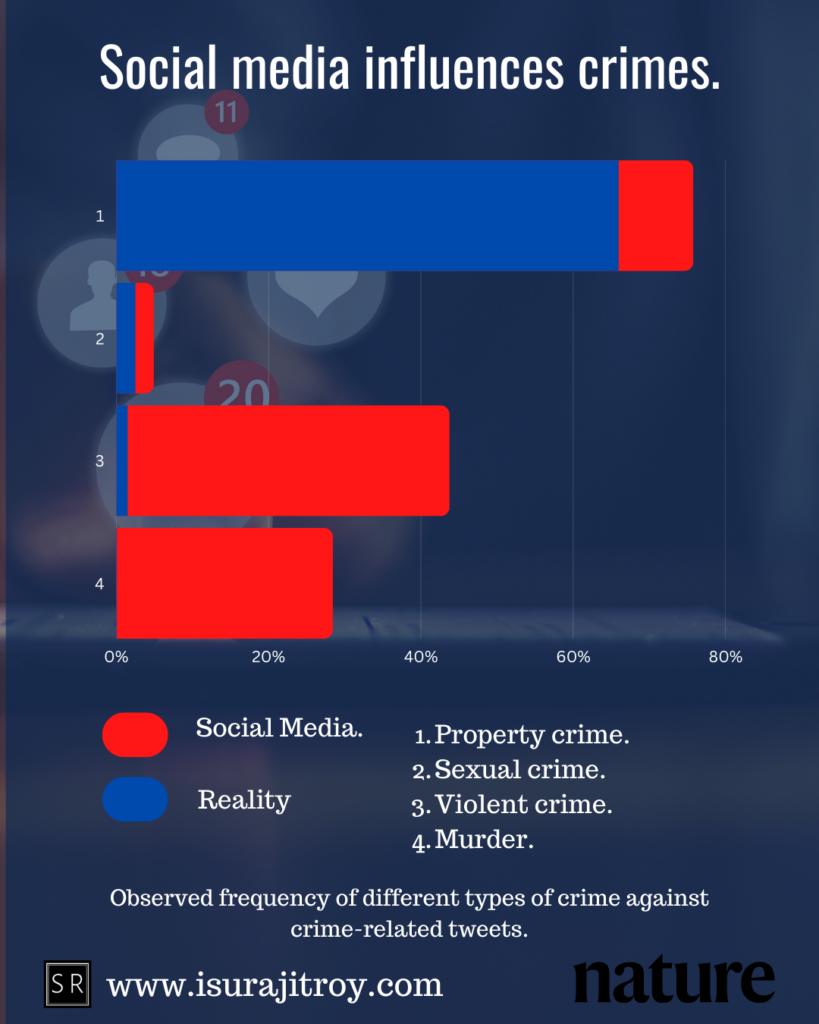 Social media influences crimes.
"There are five crime-related tweets posted within the 18 countries in Latin America every minute, and two violence-related tweets." [ Ref. URL – 9 ]
Even though social media is a big part of our lives, it can be dangerous. People can do bad things to each other online, and it's hard for the police to catch them. So it's important to be careful about what you do and who you talk to online. [ Ref. URL – 10 ]
Some people injure others by using social media in a cruel and hurtful way. This is known as online bullying. It occurs when someone make fun of, offend, or frighten others via the internet. Because it can make people feel depressed, alone, and afraid, cyberbullying is a concern. People may find it challenging to trust others as a result.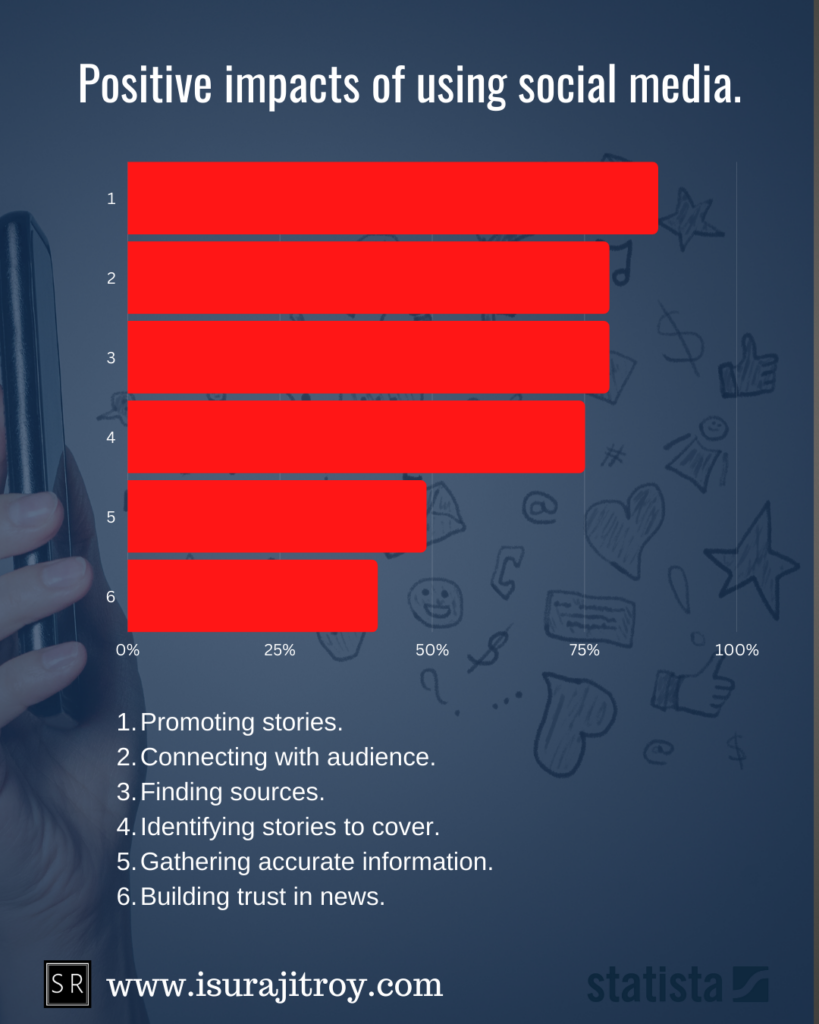 Positive impacts of using social media.
The online survey found that 87 percent of journalists said that social media had a very or somewhat positive impact on promoting stories. However, 79 percent said that it also helped them to connect with their audience. Overall, three-quarters of U.S. based journalists said that social media enabled them to identify which stories to cover. However, 67 percent of journalists in the U.S. said that social media had a negative impact on journalism. [ Ref. URL – 11 ]
Many journalists are worried that there may soon be restrictions on how they are allowed to do their job in the United States. They also think that there is a lot of misinformation in the news, but that news organizations are not doing a good job of correcting it.
Negative impact of social media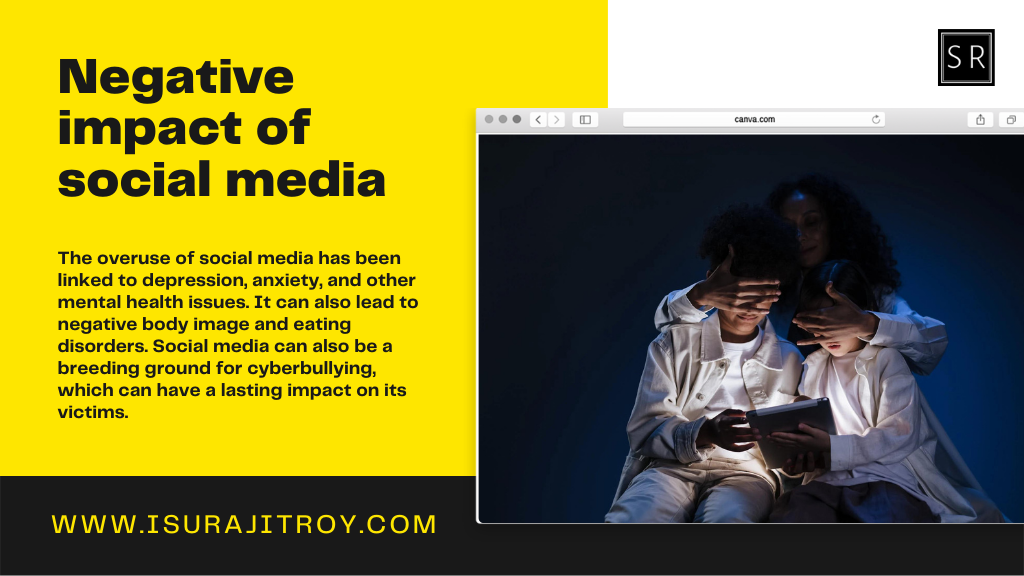 Our world is more connected now than it ever was before the invention of social media. While there are many advantages to this, there are also some drawbacks. Our mental health may be badly impacted by social media, which can be addictive. It may also serve as a forum for negative practises like cyberbullying. Let's examine some of the negative effects that social media may have on us in more detail.
Common types of social media crime.
A 16-year-old Canadian teenager was detained after threatening to blow up schools across North America. He was apprehended as a result of his Twitter boasting about his anonymous phone calls. [ Ref. URL – 12 ]
There are many distinct types of social media crime. The following are some of the most typical social media crimes:
1. Identity theft: Identity theft occurs when someone steals your identity by using your personal information. They might open new accounts, apply for credit cards, or even commit crimes using your identity and address.

2. Phishing: Phishing is when someone makes an attempt to deceive you into disclosing sensitive information about yourself, such as passwords or credit card details. They might accomplish this by posing as a reliable business or website, or by sending you an email with a bogus link.

3. Cyberbullying: Cyberbullying is when someone threatens, harasses, or humiliates another person via social media. This can involve making derogatory posts, circulating false information, or conveying ominous warnings.

4. Invasion of privacy: Privacy invasion occurs when someone looks through your private content on social media, including images or messages. They might accomplish this by hacking into your account or duping you into adding them as a friend.

5. Fraud: This occurs when someone defrauds individuals of their money using social media. They might accomplish this by creating fictitious accounts or websites or by making empty sales promises.

It's crucial to notify the authorities if you've been a victim of social media crime. Altering your passwords and privacy settings is one way you may protect yourself.
Negative impact on our daily life.
"About two-thirds of Americans (64%) say social media have a mostly negative effect on the way things are going in the country today. Just one-in-ten Americans say social media sites have a mostly positive effect on the way things are going, and one-quarter say these platforms have a neither positive nor negative effect." – Pew Research Center [ Ref. URL 13 ]
It is well known that social media may negatively affect our daily life. We frequently make comparisons to other people when using social media. When we contrast our lives with others' supposedly wonderful lives, we could feel worse about ourselves. When we don't have as many likes or followers as someone else, we could feel uneasy and excluded. Social media may also distract us more and impair our ability to concentrate on the task at hand. We could also ignore vital jobs or activities because we spend too much time on social media. Our mental and emotional health may suffer as a result of all these detrimental effects.
1. Social media can cause us to compare ourselves to others.
We see a controlled representation of other people's life when we read through our social media feeds: the greatest pictures, the most interesting updates, and the most joyful times. As a result of comparing our own lives to what we see in our feeds, we may experience emotions of inadequacy and low self-esteem. The realisation that everyone else is living their best life while we are not living up to expectations overwhelms us. It's critical to keep in mind that these highlight reels do not really reflect reality, and that it's acceptable to not be as successful or as content as we perceive on social media.
2. Social media can make us feel left out.
The fear of missing out, or FOMO, is a widespread condition that many individuals experience. When we observe our friends or acquaintances enjoying fun or visiting somewhere, it might make us feel lonely and isolated in addition to being envious. People occasionally lose sight of significant events or activities that can be helpful to them in the long term because they are too preoccupied with not missing out on the enjoyable and exciting things. Fear of missing out (FOMO) might also keep people from taking chances or attempting novel things. It's critical to maintain perspective and resist letting FOMO rule your life.
3. Social media can increase anxiety and stress.
We may experience anxiety and worry if we frequently check our phones and refresh our feeds. We can think we're falling behind on crucial information or trends or that we're lacking in comparison to others. This continual digital presence might negatively impact our daily life and cause tension and anxiety. We can take vacations from technology and concentrate on our personal wellbeing by spending time with family and friends, exercising, or doing other activities in order to lessen these symptoms. Taking a break from electronics can help us feel less stressed and anxious.
4. Social media can interfere with our sleep.
We won't get the deep sleep that our bodies require if we stay up late looking through our feeds. Lack of sleep can have a significant negative influence on our general health and wellness. Lack of good sleep can make us feel tired and irritable during the day and have a detrimental effect on our ability to focus and function. Additionally, it may lower our immune function and increase our susceptibility to sickness. Limiting our late-night scrolling and instead creating a regular bedtime routine are critical steps we can take to make sure we are getting the deep sleep we require.
5. Social media can impact our relationships.
It's also important to remember that face-to-face interactions with the people you care about shouldn't be substituted for those on social media. No matter whether it's over dinner or a night out, spending time with your family and friends is crucial. Make time to meet in person with the people you value. Take a step back from social media and use it to stay connected rather than to replace face-to-face encounters.
Top 5 social networking sites - Pros and Cons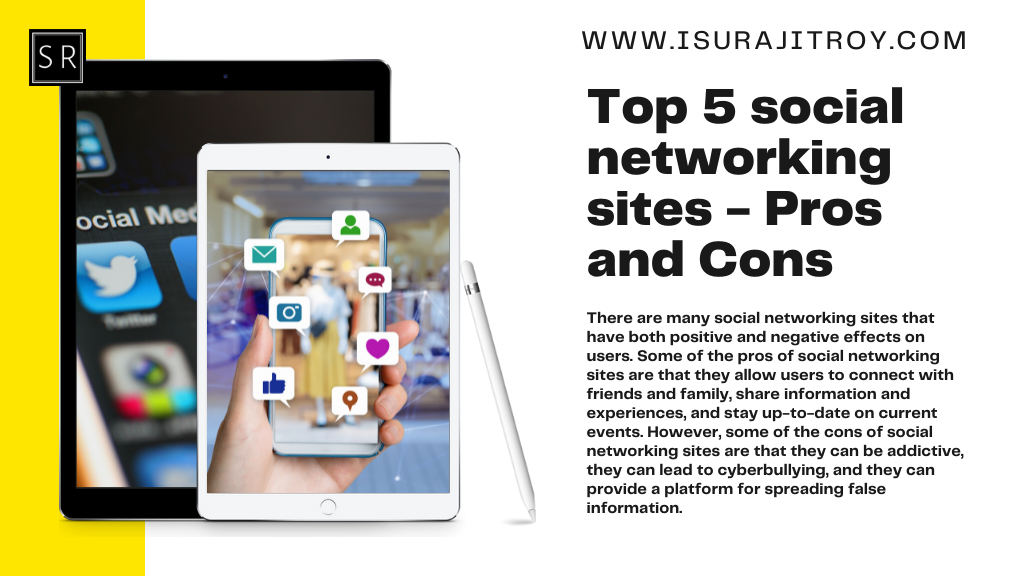 There are many social networking sites on the internet today. Each has its own pros and cons. Here are top 5 most popular social networking sites and what they have to offer.
Facebook is the largest social networking site with over 2 billion active users.
Pros – It is a great platform for staying in touch with friends and family, sharing news and experiences, and connecting with like-minded people.
Cons – However, Facebook also has its drawbacks. The site is known for spreading false information, and it can be a time waster.
Twitter is a popular microblogging site that allows users to share short messages or "tweets" of up to 280 characters.
Pros – It is a great platform for staying up-to-date on current events, sharing news and articles, and connecting with others.
Cons – However, Twitter can also be a breeding ground for trolls and bullies.
Instagram is a popular photo-sharing site with over 800 million active users.
Pros – It is a great platform for sharing photos and videos, and connecting with others.
Cons – However, Instagram can also be a time waster, and the site is known for its unrealistic "perfect" images.
Pinterest is a popular pinboard-style site with over 250 million active users.
Pros – It is a great platform for sharing ideas, inspiration, and connecting with others.
Cons – However, Pinterest can also be a time waster, and the site is known for its unrealistic "perfect" images.
LinkedIn is a popular professional networking site with over 500 million active users.
Pros – It is a great platform for networking, sharing news and articles, and connecting with like-minded people.
Cons – However, LinkedIn can also be a breeding ground for trolls and bullies.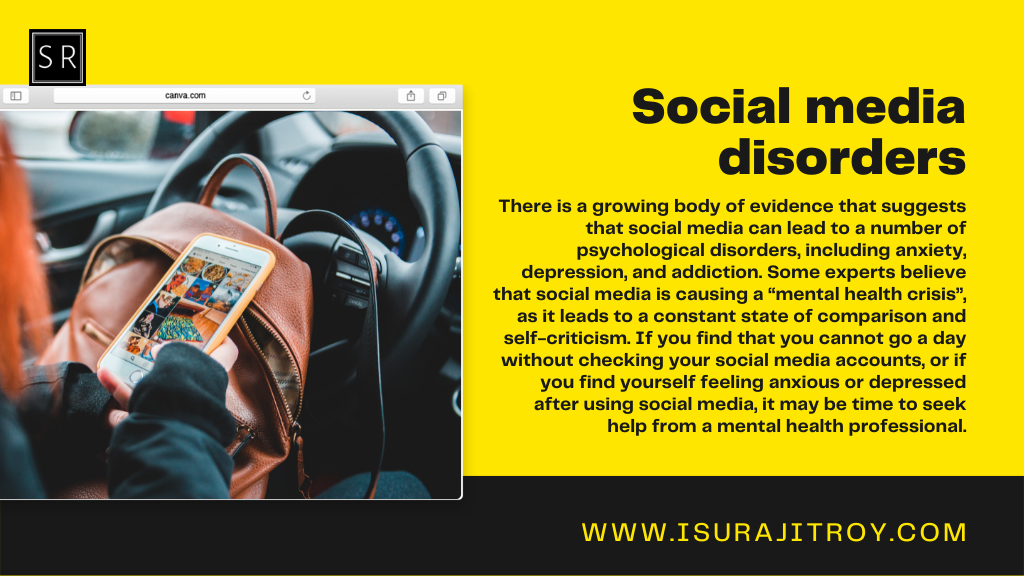 Do you have the uncontrollable want to check your phone every five minutes? Do you ever catch yourself checking your Facebook feed when you should be doing something else? In that case, you can have a social media disorder.
There are actual social media disorders, and they can be just as crippling as other conditions like OCD or addiction. It's time to get treatment if you discover that you can't spend more than a few minutes without checking your phone or signing onto your preferred social media platform. [Ref. URL – 2]
For social media disorders, there are many different treatment methods accessible. Another well-liked technique is cognitive behavioural therapy. You may be able to alter your thought processes and behaviour with the aid of this kind of therapy. In order to treat the anxiety and compulsiveness that come along with this disease, you could also be given medication.
Do not suffer in silence if you believe you may have a social media disorder. Get the assistance you require by speaking with your doctor or a mental health professional about your problems.
Social media affects mental health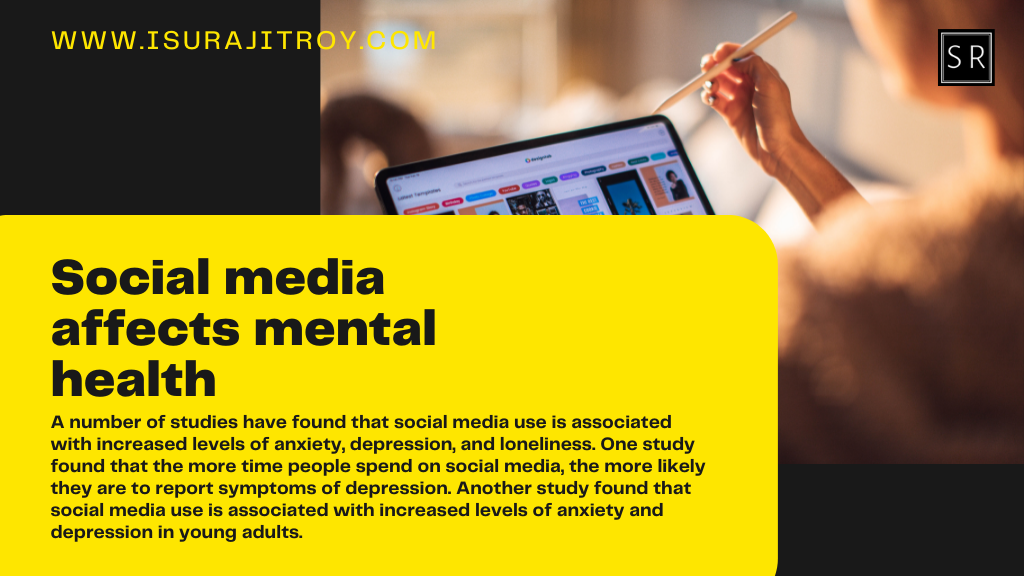 Our mental health may suffer as a result of social media use. We could feel inferior if we contrast our lives with the meticulously polished lifestyles we observe on social media. We might begin to think that everyone else's life is ideal and that we are the only ones going through difficulties. Depression and low self-esteem are possible consequences of this.
First of all, comparing and envy can flourish on social media. We can't help but feel that our own lives are inadequate when we contrast them with the carefully managed lifestyles we see on our newsfeeds. Depression and feelings of inadequacy may result from this.
Anxiety and panic episodes can also be triggered by social media. It's simple to become mired in a loop of worry and rumination due to the constant barrage of information and notifications.
Finally, it's possible to feel alone on social media. Despite being surrounded by "friends," we can occasionally feel lonely and alienated. Feelings of isolation and loneliness may result from this.
Positive effect of social media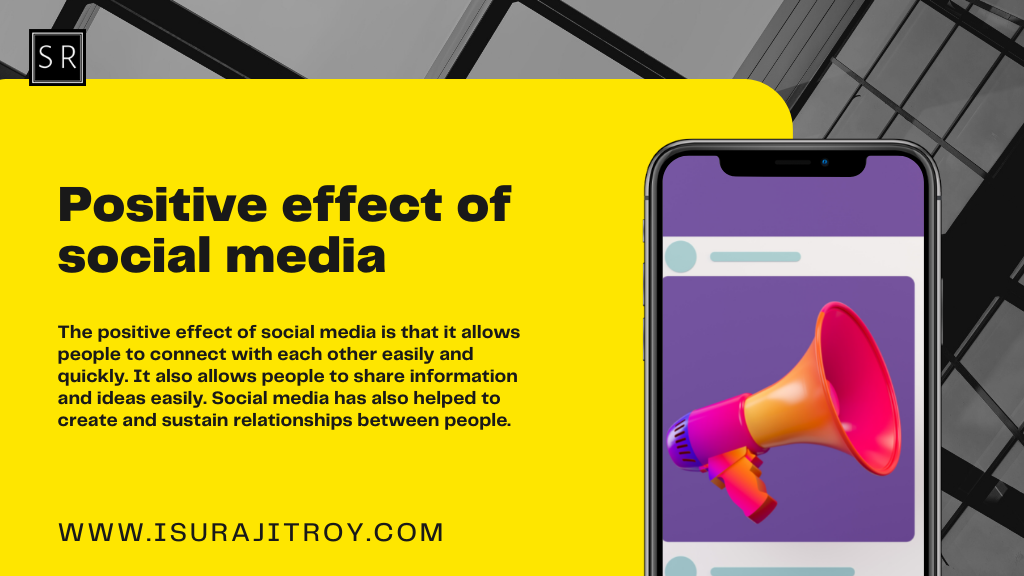 Social media is used by many young people to connect with friends and family, discuss significant events and experiences, and keep up with the newest trends. It's also a terrific opportunity to meet like-minded individuals, learn about other cultures, and discover new things.
One benefit of social media is that staying in touch with distant friends and family is now simpler than ever. Long-distance communication in the past was only possible through expensive and time-consuming methods like letters and phone calls. However, you can instantaneously communicate with anyone, wherever in the globe, thanks to social media.
Social networking is also a fantastic method to remain current on news and happenings, which is another advantage. People used to have to rely on biassed or erroneous news sources like newspapers and television. But thanks to social media, you may read or watch news articles that have been shared by individuals you know and trust as well as from a range of other sources.
Last but not least, social media has had a significant influence on how we absorb information. We had to stick to the stuff that was made accessible to us through conventional means in the past. However, social media has given us access to a seemingly limitless amount of knowledge and information. We now have access to images, articles, and films that we otherwise would not have had.
Being deliberate and using social media with a plan are essential. You may maximise your usage of social media by setting aside time to skim through your feeds, participate in conversations, and form connections. To utilise social media effectively, you must decide how to use it as a tool, which is an essential thing to keep in mind. It's crucial to pay attention to how you're spending your time, whether you decide to use it for networking, keeping up with the news, or simply for pleasure. Social networking may be a fantastic method to remain in touch with friends and family and to stay up to date on current events. You may profit from social media without becoming overwhelmed by it if you are deliberate in how you use it.