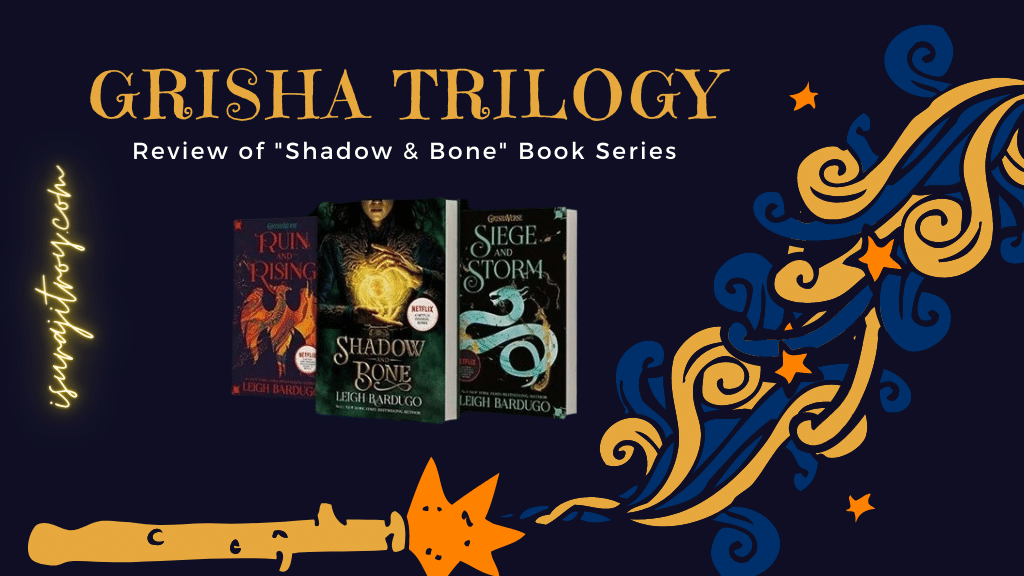 Leigh Bardugo's young adult fantasy series Shadow and Bone takes place in a planet divided by a vast wall of darkness called the Shadow Fold. Shadow and Bone, Siege and Storm, and Ruin and Rise make up the trilogy.
Alina Starkov, a teen who lost both her parents and ended up in the Ravkan army, is the series' protagonist. Alina is taken away and trained as a Grisha by the Darkling, the most powerful Grisha in the world, after it is discovered that she has the unusual ability to call light. As Alina learns to control her abilities and survive in the perilous world of the Grisha, the story unfolds with political intrigue, love, and treachery at its core.
Alina Starkov is an orphan and a soldier in the Ravkan army, and she is introduced to us in Shadow and Bone. During an attack on her regiment as they crossed the Dark Fold, Alina realised she has the extraordinary capacity to call out light. The seductive and powerful Darkling kidnaps Alina because he thinks she is the key to destroying the Shadow Fold and wants to train her as a Grisha.
Alina learns that the Darkling's intentions may not be fully altruistic as her training progresses. He plans on using Alina's abilities to wipe out the Shadow Fold and establish absolute dominion over Ravka. Alina must learn to control her abilities and safeguard her allies while navigating a perilous political terrain.
Siege and Storm follows Alina and her Grisha friend Mal as they try to evade the Darkling. As the Darkling's men pursue them across the ocean, they seek safety with a privateer by the name of Sturmhond.
It's unclear why Sturmhond wants to aid Alina in her fight against the Darkling, but he does volunteer to do so. Alina is still struggling with her abilities and the weight of knowing she is the only one who can stop the Shadow Fold from destroying Ravka.
Alina is imprisoned beneath with diminished strength and diminishing hope in Ruin and Rising. After being rescued, she and her companions embark on a quest to locate the legendary firebird, which they hope will aid them in vanquishing the Darkling and putting an end to the Shadow Fold for good.
Alina learns the full range of her abilities and takes a life-altering choice as she progresses.
In the Shadow and Bone books, Alina plays the main role. She's a multifaceted protagonist, torn between her past as an orphan and her future as a Grisha with extraordinary abilities. Alina faces challenging decisions and navigates a perilous political atmosphere throughout the series.
The Darkling serves as the main villain throughout the show. He has more power than any other Grisha and is determined to rule over all of Ravka. The Darkling is a sorrowful, multifaceted character despite his malevolent nature.
Alina has known Mal since they were young. He's a skilled tracker and soldier, but his love for Alina and his own anxieties are holding him back.
In Siege and Storm, Alina and her pals make a new buddy named Nikolai, a charming and dynamic privateer. He's clever and resourceful, but his genuine intentions are never made clear.
Tailors like Genya, who can change their appearances, are formidable Grisha. She starts out with the Darkling, but eventually sides with Alina and the others.
Squallers, like Zoya, are Grisha with the ability to control air. She's at odds with Alina at first, but eventually becomes a reliable ally.
David is a Fabrikator, a Grisha with the ability to create and manipulate materials, and an eccentric inventor. In Ruin and Rising, he plays a pivotal role on Alina's team.
Themes of authority, individuality, love, and betrayal are examined in the Shadow and Bone novels. Alina faces a perilous political landscape rife with powerful players fighting for their attention. She must also face the dangers of authority and the fallout of abusing her position for her own ends.
The subject of individuality is also examined throughout the series, as Alina strives to come to terms with who she is as an orphan and a Grisha. She has to face her love for Mal and the tough decisions she must make while also accepting the power and responsibilities that come with it.
As a whole, we enjoyed reading the Shadow and Bone trilogy. The political landscape is intricate, and the magic system is one of a kind, adding to the depth of the world-building. The characters are rich in depth and complexity, each with their own unique goals and histories.
Yet, the show isn't perfect. The pacing isn't always consistent, and there are parts of the story that feel hurried or underdeveloped. Also, the romance between Alina and Mal may be too formulaic or predictable for certain readers.
In spite of these issues, I nonetheless recommend Shadow and Bone to anyone who enjoy young adult fantasy. The series provides a wonderful entry point into the Grishaverse, an universe full of interesting characters and plots.
Finally, if you like fantasy novels for young adults, you really must read the Shadow and Bone series. The series is engrossing and interesting to read because of its complex characters and well-developed setting. I think that anyone who appreciates a good fantasy adventure should read the series, despite its shortcomings.
I appreciate your interest in my analysis of the Shadow and Bone novels. Hopefully, you've found this article's in-depth examination of the show to be informative. Please use the space below to ask any questions or make any comments you might have.