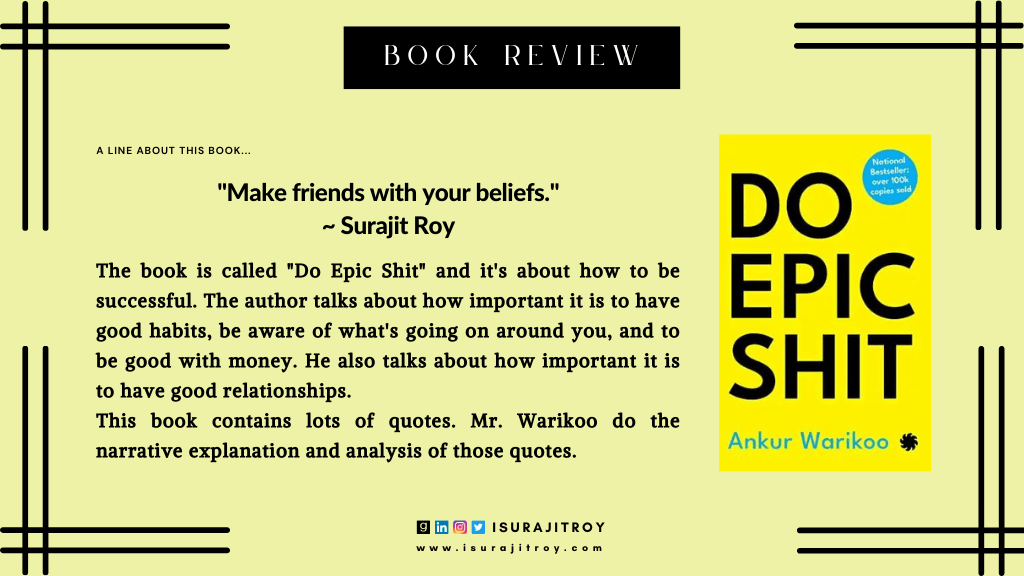 "Make friends with your beliefs."

~Surajit Roy
"This book is not going to something new. It is meant to put words to your thoughts. Thoughts that we all feel, repeatedly, but rarely stop to make sense of." It is important to keep your fundamental beliefs and values in mind. It helps you remember why you're doing what you're doing, and it also helps reduce stress and boost motivation. Sometimes you get the impression that you can't do anything well or that everything is going wrong. This is called a roadblock. Roadblocks are normal and everyone experiences them. "Do Epic Shit" all about how best to deal with a roadblock is to stand back and think about what's going on. It's going to help you understand what to do next. Also described that you should continue even when people are telling you that you cannot do anything. You're in control of your life and the way you spend your time.
Book Details
| | |
| --- | --- |
| Book Title | Do Epic Shit |
| Author | Ankur Warikoo |
| Book Genres | Non Fiction |
| Category | Self Help |
| My Rating | 4.1/5 |
Book summary of the book, Do Epic Shit written by Mr. Ankur Warikoo.
About The Author
Ankur Warikoo is an Internet Entrepreneur from India. He is a content creator, bestselling author, and online educator. He also mentors entrepreneurs and invests in startups. Previously, warikoo founded nearbuy.com, India's No.1 Lifestyle App. He was its CEO from its inception in 2015 until 2019. Prior to that, Ankur was the founding CEO of Groupon's India business in 2011 and acted as the Country CEO from 2011-15, and Head of Groupon APAC from 2013-15. In 2008 he co-founded his first startup – Accentium Web along with 2 other batch-mates from ISB that ran websites such as Gaadi.com, Secondshaadi.com amongst others. Thereafter, Ankur launched Rocket Internet's India business and was part of the founding team of Jabong.com.
Book Summary
The book is called "Do Epic Shit" and it's about how to be successful. The author talks about how important it is to have good habits, be aware of what's going on around you, and to be good with money. He also talks about how important it is to have good relationships. This book contains lots of quotes. Mr. Warikoo do the narrative explanation and analysis of those quotes. In this book is all about "Deep, witty and brutally honest thoughts on success and failure, money and investing, self-awareness and personal relationships". In this book, he discusses the key ideas that have helped him on his journey, which began with wanting to be a space engineer and ended with creating content that has been seen and read by millions. Some of the topics he covers include the importance of creating habits for long-term success, the foundations of money management, embracing and accepting failure, and the real truth about learning empathy.
Book Highlights
Success (and Failure)
"Success isn't necessarily about prescriptions on how to get successful." When you fail to do anything, it can make you feel bad. Maybe you don't want to try again. However, it is important to learn from your failures. Failure teaches us resilience. It's when you're determined to overcome defeat. Resilience is a valuable life skill to learn. It assists you in other ways, too. Resiliency can help you build growth mindsets. It can help you engage in appropriate behaviors to overcome change. And it can help you build courage, tenacity and drive.
Success makes us dream bigger and take action than we ever thought possible, propelling our success to ever higher levels. But some people have fears and beliefs around success and its impact on us, like that it will make us superficial or materialistic, or that it will cause us to lose the lifestyle to which we've become accustomed. If you are a good person, success will make you that much more enjoyable. If you're a bad guy, success will make you even worse. Success just does any kind of person you are already, even more than that person. It is therefore important to be the type of person you want to be, because success will only make you more of that person.
Habits
Our brain creates habits so that we can do things automatically and without too much thought. This is beneficial because it allows us to focus our brainpower on other things. "Habits build us, goals lay us barren". The cue and the reward have a very strong influence in creating habits. It's the cause of the cravings and makes you repeat behaviors or actions. So if you want to change a habit, you need to change the routine that you're used to. Try out different routines until you find one that you're happy with.
If you want to change your habits, it might take a while, but it's worth it because it could help you stay healthy and have more energy. When you're trying to change your habits, it's helpful to remember why you wanted to make the change in the first place, and to have a plan for when things get tough. Your brain develops new skills and habits at its own pace, so it's important to be patient with yourself and your child.
Awareness
"We aren't creating content. We are creating awareness which helps people make better decisions." The ability to be conscious and comprehend others is important for healthy development. Your child learns this while observing, listening and making friends. It teaches how it is like other people and how it is unique. This realization requires experience with people of different ages, interests, ethnicity and strengths and vulnerabilities. Every relationship is added to an internal catalog that we use to form our worldview. We think that being aware of yourself, accepting yourself, and behaving in a way that is true to yourself are all important for being happy and healthy.
Self-connection is a way of being that comprises three parts: self-awareness, self-acceptance, and behavior that aligns with that consciousness. People who are gifted for self-connection are self-aware and accept each other for who they are. They also work according to their consciousness. "Our actions are driven by our feelings of what people feel about us! This begs the question, whose life are we living?" By understanding self-connection and finding ways to be more connected to oneself, we hope to help everyone pursue a life "well-lived."
Entrepreneurship
"… entrepreneurship and building a team is ninety per cent understanding and ten per cent execution". An entrepreneur is someone who possesses a set of attributes that allows them to start their own business. Leadership is the process of influencing people and providing an environment for them to achieve the organizational objectives. Leadership qualities help people become entrepreneurs and do their job better.
This book is about how different types of leadership affect entrepreneurship. The book shows that charismatic leadership has the biggest effect on entrepreneurship, especially on opportunity entrepreneurship. The book also shows that autonomous leadership has a negative effect on entrepreneurship, but this changes when it is moderated by the humane dimension. This book is also about how the study of leadership can help the field of entrepreneurship. It starts by talking about how leadership and entrepreneurship have some things in common, and then it looks at how each field has developed over time. The book ends with some ideas about how entrepreneurship can learn from the mistakes of leadership research.
Money
If we all work together, we can create a society where everyone has what they need to be happy and healthy. "Inflation is a thing. A real thing. Money loses value over time. Always include that in your return calculation". When people are thinking about money, they isolate themselves from others. Many times our dissatisfaction with our financial situation comes from the perception that we're not stacking up to the people around us. We humans don't always know what makes us happy! Because our society values money so much, we believe that it will bring us happiness and so we don't pay attention to what is actually going on.
The book is talking about how money is important because it gives you options to have a better life that you can choose. It also says that having money gives you freedom to decide how you want to live and support the things you care about most in your life. The book also talks about how money cannot buy you happiness and how greed can make people do terrible things.
Relationship
Some things you can do to build and maintain healthy relationships with all the people in your life are to communicate your needs, preferences, and previous or ongoing personal challenges, and to be responsive to the needs, preferences, and challenges of the other person. "When we hold a grudge against someone, we do the same thing they did to us: hurt us. They hurt us once. We hurt ourselves 100x by repeating it in our head". If you want people to trust you and feel like you care about them, you should listen to them when they talk. Make eye contact, put your phone away, and turn off the TV. Ask follow-up questions about what they are saying. Remember things they have told you in the past, and ask about those things in the future. If you feel like you can't speak your mind in a relationship, that might be an unhealthy relationship. You should be able to tell the other person how you feel and what you want. If you can't do that, it will cause problems later on.
"Once we know how to communicate and we do communicate, problems move from being problems to actions to be taken". This book talks about how to make relationships better by setting boundaries. It says that it's important to still have your own hobbies, goals, and desires even when you're in a relationship. It also says that it's healthy to spend time with friends and have time to yourself. Being in a relationship doesn't mean you have to stop being your own person. The book also talks about how to communicate better with your partner. It says you should ask lots of questions and listen. You should also try to do fun things together. The book also talks about how to deal with conflict. It says you should never pressure your partner to do something they don't want to do or share everything they're thinking. It also says that being grateful is important. You should thank your partner when they do something for you.
Conclusion
Self-criticism might help us become aware of our shortcomings, but it can also cause more harm than good. Self-care is a much better alternative to achieve the same and more. Whether it's a self-care journal that you're keeping, or simply indulging in relaxing activities like reading, listening to music and cooking, or delighting yourself with a whole bunch of activities that are included in a self-care kit; no matter how big or small the initiative on your part, it matters.
Self-care is important for everyone. It can help you feel better, be healthy, and enjoy your life more. Sometimes it seems like you're not making any progress in life, but that's just because you're taking the time to appreciate everything fully. So even if you're not where you want to be, you're still further along than you used to be.
Enjoy this review?