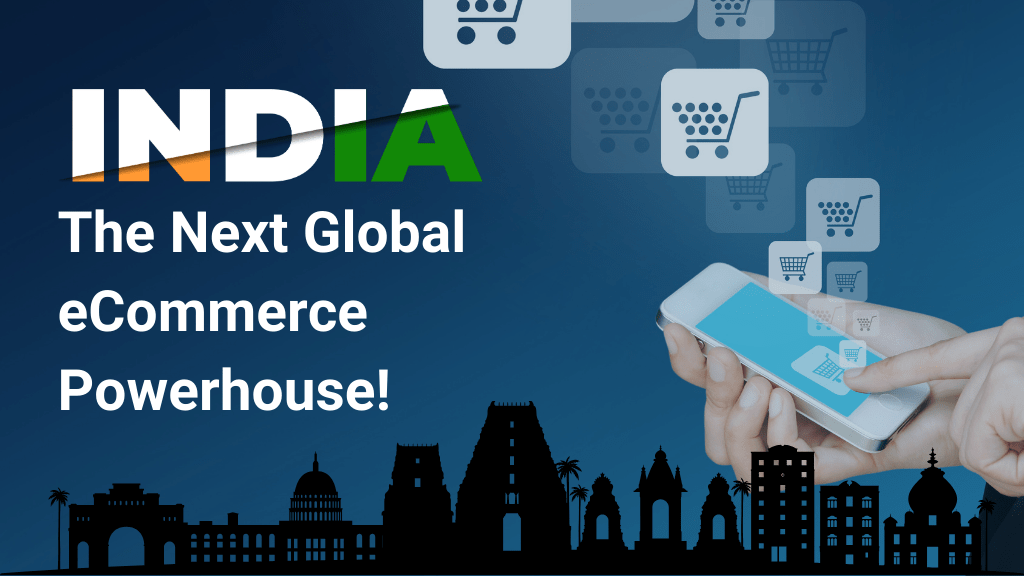 In the realm of eCommerce, the world has witnessed a seismic shift in recent years. As the digital landscape continues to evolve, one name stands out prominently on the horizon – India. This article explores why India is poised to become the next global eCommerce market leader.
According to latest industry estimations, India would lead retail e-commerce development among 20 nations between 2023 and 2027 with a 14.1% compound annual growth rate. The Indian e-commerce market is worth 63.17 billion dollars. With over 13.6 percent CAGR, Argentina and Brazil are among the fastest-growing e-commerce marketplaces. The same period saw an 11.16 percent worldwide retail e-commerce CAGR.
The Rise of eCommerce in India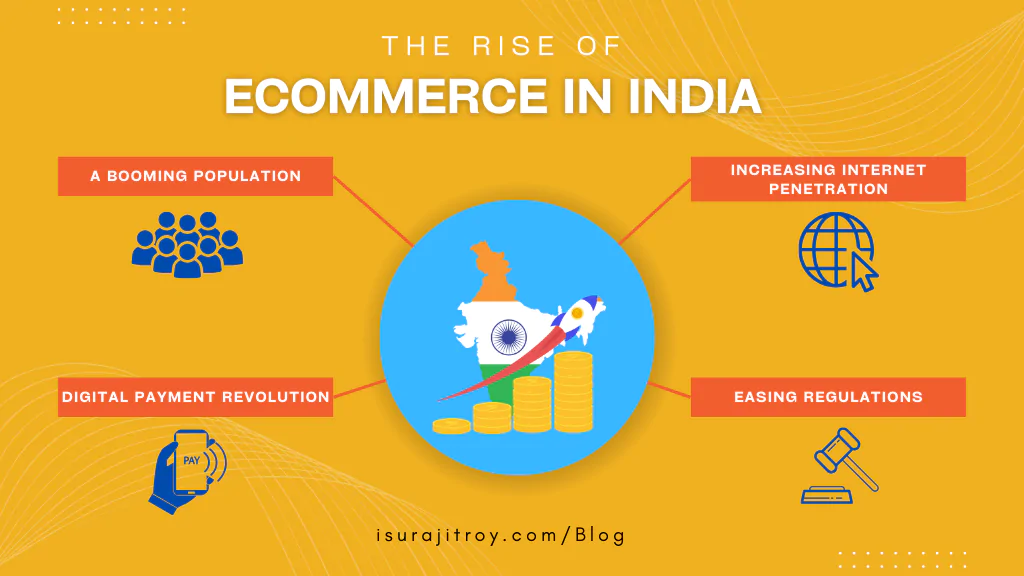 India's eCommerce market is on an upward trajectory, with astonishing growth rates year after year. Several key factors contribute to this ascent:
1. A Booming Population
India boasts a population of over 1.3 billion people, making it the second-most populous country globally. This vast consumer base presents an immense opportunity for eCommerce businesses.
2. Increasing Internet Penetration
With the widespread availability of affordable smartphones and affordable data plans, internet penetration in India is surging. A burgeoning middle class is eagerly embracing online shopping.
3. Digital Payment Revolution
The Indian government's push for digital payments and the rise of payment gateways have made it easier for consumers to transact online securely.
4. Easing Regulations
Government initiatives such as 'Make in India' and 'Digital India' are opening doors for eCommerce businesses, offering a conducive environment for both domestic and international players.
E-commerce retail sales CAGR 2023-2027, by country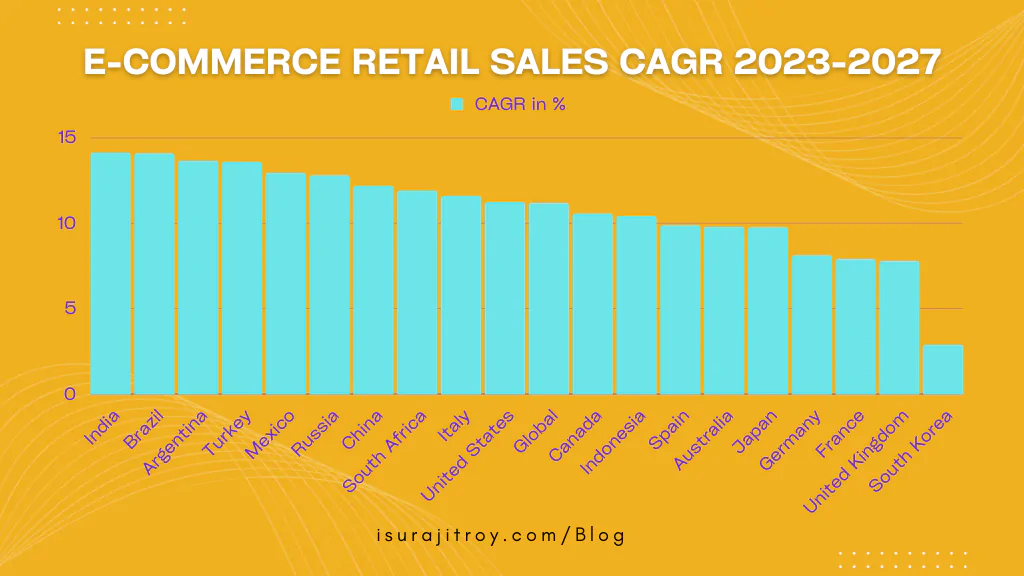 Indian online shopping is expected to reach $100 billion by 2027. Although the expected growth is unmatched, other e-commerce marketplaces are larger than India. The U.S. e-commerce market is approaching $1 trillion. The Indian online purchasing market lags behind other major nations. To measure e-commerce penetration in a country, consider the average revenue per user. India has a 2023 ARPU of 77 U.S. dollars. This value is over 1,200 U.S. dollars in neighboring China, 10 times higher.
The Giants of Indian eCommerce
The leading online retailer in April 2017 was Amazon India, selling over $500 million. Flipkart and Myntra ruled locally. Most respondents to a May 2020 survey said e-commerce platforms could deliver in India after coronavirus ban. Many reasons drive e-commerce growth.
1. Flipkart
Founded in 2007, Flipkart is one of India's eCommerce pioneers. It's known for its diverse product range and innovative marketing strategies.
2. Amazon India
Amazon's entry into the Indian market in 2013 was a game-changer. The global eCommerce giant has invested heavily in India and is now a significant player in the market.
3. Reliance JioMart
Reliance JioMart, backed by Reliance Industries, is rapidly gaining ground. Leveraging the Jio network, it's becoming a formidable force in Indian eCommerce.
India: Top 10 online stores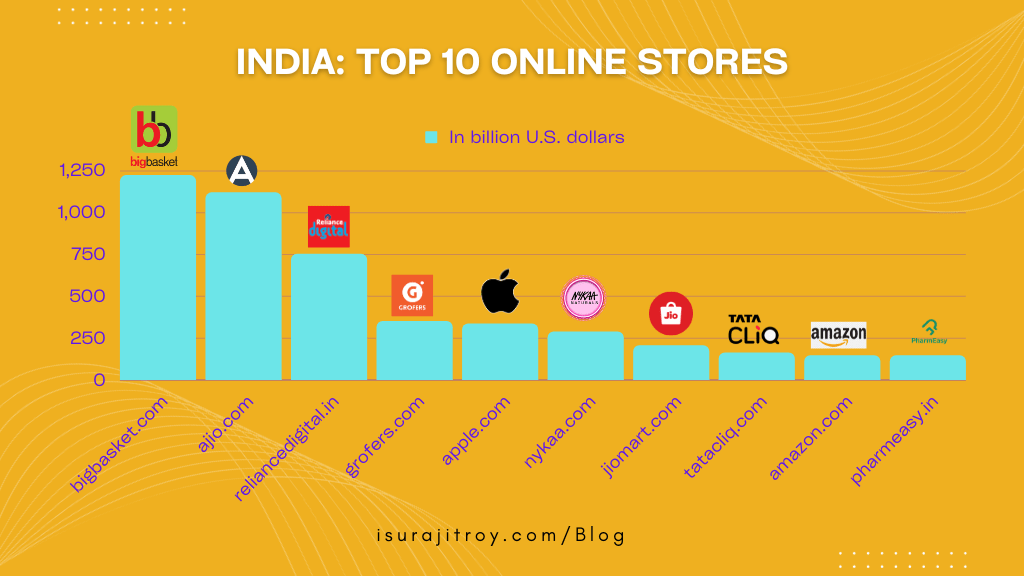 Bigbasket.com is currently in the driver's seat of the e-commerce industry in India. The company generated e-commerce net sales in India totaling $1,222 million in 2021, which was followed by ajio.com with net sales of $1,119 million. Reliance Digital, an Indian company, comes in third place with total revenues of $752 million US. With annualized net sales of US$350 million in 2021, Grofers.com was ranked as the fourth largest online store in India.
E-commerce market size India 2014-2030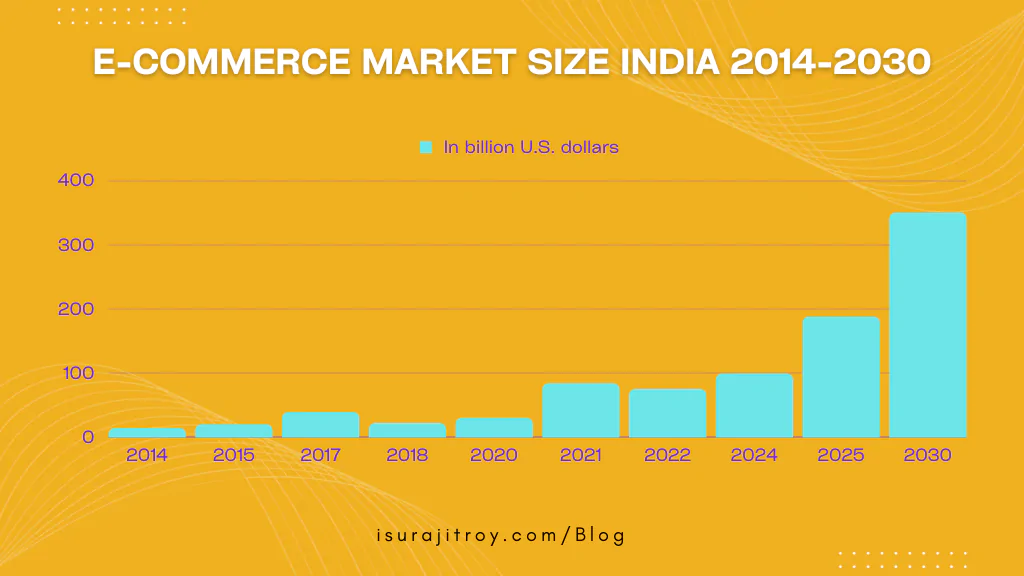 Indian e-commerce has significant potential due to its rising internet user base and favorable market conditions. The Indian e-commerce market was valued 22 billion U.S. dollars in 2018, expanding rapidly. This was predicted to reach $350 billion by 2030. India's e-commerce is competitive. Many local and multinational companies battle for market share.
Digital sales in India expanded due to economic digitization and accessible internet. E-commerce sales in India were predicted to climb 25% in 2018. Growth was predicted to decline in 2022. Therefore, revenue potential has increased. Indian retail e-commerce revenue per user crossed $50 in 2018. By 2024, it should reach $75.
Challenges and Opportunities
While India's eCommerce market is on the cusp of greatness, it's essential to acknowledge the challenges:
Logistics and Infrastructure
The vast geographic spread of India presents logistics challenges, but investments in warehousing and distribution networks are addressing these issues.
Competition
The market is fiercely competitive, with numerous players vying for a share. Survival depends on innovation and customer-centric strategies.
Regulatory Environment
India's regulatory landscape is evolving, and businesses must adapt to changing policies and regulations. On the flip side, the opportunities are equally compelling:
Rural Expansion
E-commerce companies are increasingly targeting rural India, which offers untapped potential.
Emerging Technologies
The adoption of emerging technologies like AI, machine learning, and data analytics is poised to revolutionize the sector.
Export Potential
India's eCommerce industry is not limited to its borders. It has the potential to become a global export hub.
Revenue growth of ecommerce market in India 2018-2027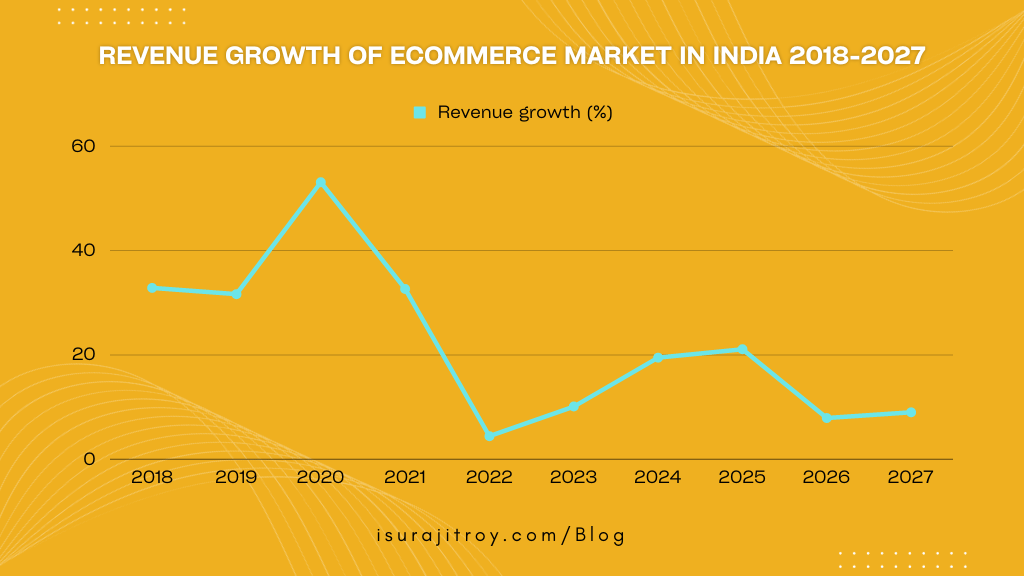 In India, the e-commerce market is projected to experience a revenue growth of 10 percent by the year 2023. The growth rate in the market for online shopping was the highest, at 53% in the year 2020. Because of the lockdowns and the social isolation that occurred during the COVID-19 epidemic, people shifted to doing their grocery shopping and shopping for other necessities online.
Conclusion
In the ever-evolving world of eCommerce, India is emerging as a force to be reckoned with. The combination of a massive population, increasing internet penetration, and a growing middle class is creating a thriving market. While challenges persist, the opportunities are vast, and the future looks promising. India is set to be the next eCommerce market leader on the global stage, a transformation that will undoubtedly reshape the industry.
Source: Statista