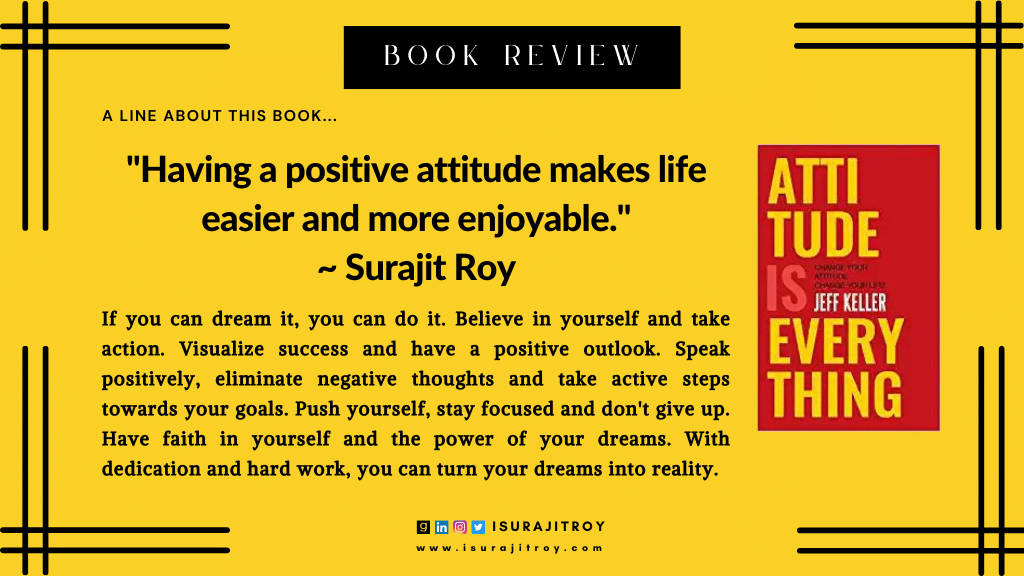 In his book, "Attitude Is Everything. Change Your Attitude … Change Your Life!" , Jeff Keller provides readers with a powerful three-step program to help them take control of their lives, unleash their hidden potential, and create positive and lasting change. Through his insightful advice, readers will learn how to think and speak in a way that will help them develop their talents and reach their goals. With Keller's guidance, readers will be able to counter adversity, improve their relationships, and see new possibilities. By the end of the book, readers will be energized and equipped with the tools they need to create a happier and more successful life.
| | |
| --- | --- |
| Book Title | Attitude Is Everything: Change Your Attitude Change Your Life! |
| Author | Jeff Keller |
| Book Genres | Non Fiction |
| Category | Self Help |
| My Rating | 4.7 |
"Attitude Is Everything: Change Your Attitude Change Your Life!" book review summary.
Jeff Keller is the President of Attitude is Everything Inc. and the author of the best-selling book Attitude Is Everything. He has over 20 years of experience working with organizations and individuals to help them reach their full potential. Jeff is passionate about helping others reach success and was inspired to create Attitude is Everything after seeing firsthand the power of a positive attitude and the incredible things it can do for people. He has spoken and written extensively about the importance of having an optimistic outlook and has been featured in numerous publications and media outlets.
Jeff is a sought-after speaker and consultant and is frequently invited to deliver keynote speeches and seminars around the world. He is also the host of the popular podcast, Achieving Success with Jeff Keller, which features interviews with thought leaders, entrepreneurs and influencers. Jeff is a firm believer that no matter what challenges you might face, attitude is everything when it comes to achieving success. He is committed to helping people cultivate a positive outlook so they can reach their goals and live their best lives.
Attitude Is Everything: Change Your Attitude … Change Your Life! is a book by Jeff Keller that encourages readers to take control of their lives by changing their attitude. Keller argues that attitude is the most important factor in determining our success and happiness in life. He provides a three-step program to help readers make the switch from negative to positive thinking. First, readers are encouraged to THINK, or to recognize their own power to determine their destiny by changing their attitude. Second, readers are encouraged to SPEAK, or to watch their words and use them to propel themselves towards their goals. Lastly, readers are encouraged to ACT, or to take active steps to turn their dreams into reality. Through this program, readers will be able to gain energy and unlock their hidden potential, improve their relationships, and achieve their goals.
It offers very effective and practical advice on how to run yourself in order to achieve success. The information contained in this book is concise and highly applicable, so readers can quickly put its lessons into practice. It's an invaluable resource that will prove invaluable to anyone looking to better their chances of success.
I felt that the points he made throughout the book resonated with me. His message that our past does not define our future and that it is the effort we put into our present that matters the most was especially powerful. Overall, the book is a great read and I would definitely recommend it to others.
This powerful and inspirational read is filled with thoughtful advice on how to approach life with a positive attitude, as well as how to make the most of our time. Through a series of stories, the author successfully conveys the importance of treating others with respect, being mindful of our choices, and living life to the fullest. This book has truly changed my outlook on life and I am grateful for the insight it has provided.
Attitude Is Everything: Change Your Attitude, Change Your Life by Jeff Keller is an inspiring and uplifting read that I highly recommend. Keller provides a simple, yet effective guide to changing your attitude for the better. The book is filled with motivating stories, anecdotes, and practical advice that can help anyone transform their mindset and create positive change in their life. I have found it to be an invaluable resource in helping me to make positive changes in my attitude and outlook. I am sure that anyone who reads this book will be inspired and equipped to make positive changes in their life.
This book is a great read as it encourages readers to think deeply about their lives and the tough questions posed. The author has chosen to take an unconventional and difficult journey, rather than a comfortable one, and it is inspiring to read about. The quotes in the book are thought-provoking and relevant, which make you pause to consider your own life and decisions. I liked this book from the very beginning and would highly recommend it.
The book, Attitude Is Everything. Change Your Attitude Your Life! by Jeff Keller, provides an insightful look into the power of attitude and how it can shape our lives. Keller's practical advice and inspiring stories will help readers make the most of their experiences, and ultimately, their lives. He emphasizes that it is our attitude and our efforts, not our past, which will shape our future. Keller's emphasis on motivation and good habits as the key to success is sure to help readers reach their goals. Overall, this book is an inspiring and empowering read.