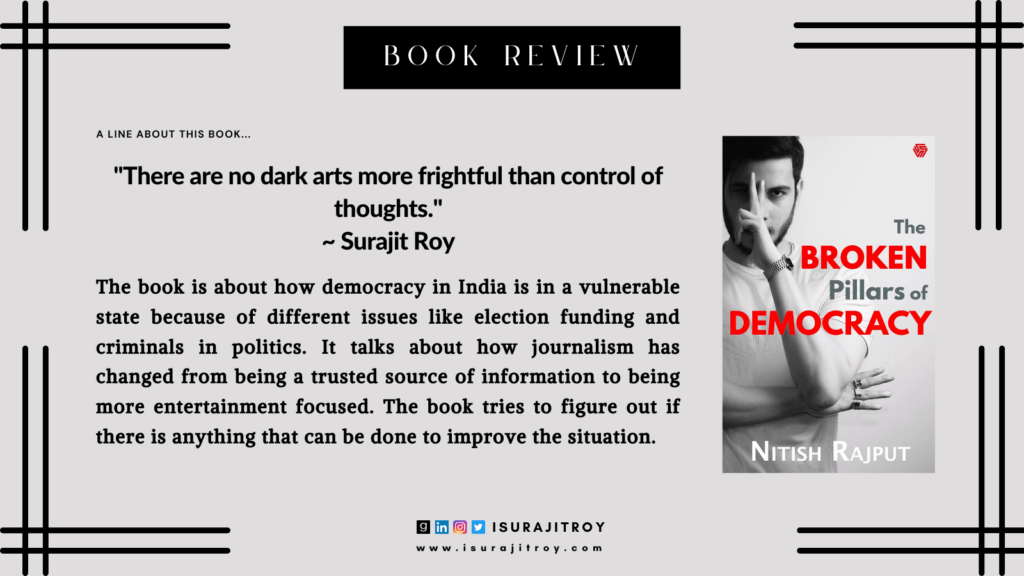 "There are no dark arts more frightful than control of thoughts."

~ Surajit Roy
Politics is when people try to get power. People might try to get power to help other people, but mostly people just want power because they want to be in charge. If we want things to change, we need to create a new system where the party that does the right thing wins the election. Right now, there are some parts of the government that work well, but most of it is corrupt and doesn't work well.
Book Details
| | |
| --- | --- |
| Book Title | The Broken Pillars of Democracy |
| Author | Nitish Rajput |
| Book Genres | Non Fiction |
| Category | Politics and Journalism |
| My Rating | 4.6/5 |
Book summary of the book, The Broken Pillars of Democracy written by Mr. Nitish Rajput.
About The Author
Nitish Rajput is an entrepreneur, bestselling author, and digital content creator who believes that social media and the internet have the power to create any narrative. He wants to use this power to curate a healthy, informative narrative that can genuinely benefit people in forming an opinion that is backed by facts and compromised information.
Book Summary
The book is about how democracy in India is in a vulnerable state because of different issues like election funding and criminals in politics. It talks about how journalism has changed from being a trusted source of information to being more entertainment focused. The book tries to figure out if there is anything that can be done to improve the situation.
Book Highlights
1) "Awareness is a superpower. Big changes take place when people start asking for them". Some people think that they are voting based on their own free will, but sometimes the information they have about who to vote for is wrong. If people realized this, they might understand that they are being influenced to vote for a particular party or candidate as part of a well-planned conspiracy. Even though their parents are famous, children of celebrities are famous too. Their lives are often under the microscope of the media just like their parents. They might even get more coverage on TV than their parents!
2) Some news channels in India want to play with people's emotions for a show, and get them involved in debates without any evidence. This is bad because it goes against standards and ethics of journalism, and it also means that people are not talking about more important things.
3) If you consume news, it will affect you, and your decisions will be affected by the news you consume. Just seeing something on a TV screen can ignite the brain in every possible way. Viewers see a story the way it is presented by the narrator, but in India, there is an acute absence of an independent regulatory framework with statutory powers to regulate the media, especially television news channels. This simply means that journalists and news channels are held accountable. There should be a dialogue around the need for regulation, which is adequately equipped with statutory powers.
4) The Lok Sabha is the main governing body in India and the last elections cost a total of 60,000 crores. India is ranked high in election expenditure but low in education, coming in at 60th place in the world. Businessmen in India cannot run their businesses efficiently if they antagonize political parties, which often leads to them having to donate money to the party in power.
5) The main point is that the different political parties in India don't work together on important issues like security, but they do come together on less important issues. The reason they don't work together on more important issues is because of a law that says that a person is innocent until proven guilty.
6) The police department is the only department that has not had any major scams or corruption. The reason for this is that the new leader wants to be surrounded by people who agree with him.
Conclusion
The media is important because it is the fourth pillar of democracy and it should stand firmly. People should take responsibility for the content they see on mainstream media, especially channels. With the rapid rise and use of social media platforms, it has become extremely easy to create communities and interact on relevant topics. People can share their own experiences with the media and listen to others. This will expand perspectives and open new doors to identifying news channels that drive an agenda and compromise on important facts and information.
Enjoy this review?