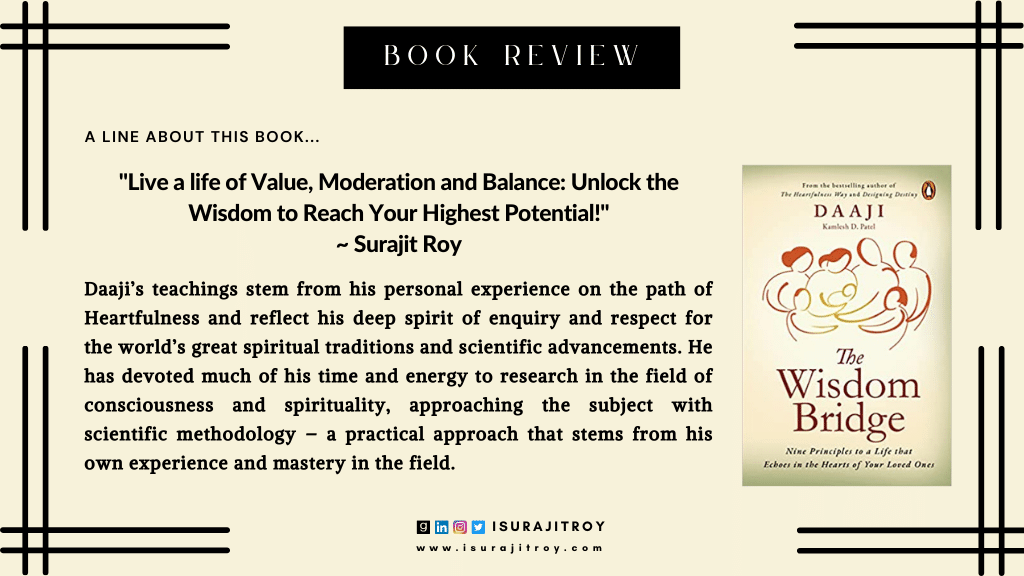 "Live a life of Value, Moderation and Balance: Unlock the Wisdom to Reach Your Highest Potential!"

Surajit Roy
Kamlesh D. Patel's book, The Wisdom Bridge: Nine Principles to a Life that Echoes in the Hearts of Your Loved Ones, is an invaluable resource for today's parents. It guides the reader through nine principles of parenting that can help build strong relationships between parents and their children. The author draws from his own experience of parenting, as well as wisdom from ancient Indian scriptures and the works of contemporary thinkers. Patel emphasizes the need for parents to cultivate their own wisdom and to be fully present for their children. He argues that understanding and compassion are essential components of successful parenting.
Book Details
| | |
| --- | --- |
| Book Title | The Wisdom Bridge: Nine Principles to a Life that Echoes in the Hearts of Your Loved Ones |
| Author | Kamlesh D. Patel (Daaji) |
| Book Genres | Non Fiction |
| Category | Family and Relationship |
| My Rating | 4.9 |
"The Wisdom Bridge" book review summary.
KAMLESH D. PATEL, also known as Daaji, is a spiritual master, renowned pharmacist, and author. He is the fourth spiritual guide in a century-old lineage of heartfulness meditation and the founder of the Heartfulness Institute, a global movement to promote the practice of meditation and self-development.
Daaji's teachings stem from his personal experience on the path of Heartfulness and reflect his deep spirit of enquiry and respect for the world's great spiritual traditions and scientific advancements. He has devoted much of his time and energy to research in the field of consciousness and spirituality, approaching the subject with scientific methodology – a practical approach that stems from his own experience and mastery in the field.
Daaji is a published author of several books, including "Heartfulness: The Path of the Heart" and "The Heartfulness Way". He has been featured in the New York Times, BBC News, The Times of India, and other renowned publications. He has also been featured in documentaries such as "Heartfulness: The Journey Within" and "The Secrets of Meditation".
Daaji has been an inspiration to thousands of spiritual seekers around the world and is devoted to extending his support to them. He travels extensively, giving lectures, conducting workshops and retreats, and helping to create meaningful change in the lives of others.
The Wisdom Bridge: Nine Principles to a Life that Echoes in the Hearts of Your Loved Ones is a book by Daaji Kamlesh D. Patel that explores the idea of how the intentions, thoughts and actions of elders can be passed down to their children through the power of love and acceptance. This book provides nine principles to help the reader understand how to live a life that will echo in the hearts of their loved ones. The nine principles are: 1) Teach and Witness with Love; 2) Teach and Witness with Respect; 3) Teach and Witness with Gratitude; 4) Teach and Witness with Honesty; 5) Teach and Witness with Compassion; 6) Teach and Witness with Cooperation; 7) Teach and Witness with Self-Awareness; 8) Teach and Witness with Acceptance; and 9) Teach and Witness with Faith. The author explains how these principles can help bridge the gap between generations and create a strong bond between the young and the old. The book also encourages readers to practice the principles in their own lives, so that they can be an example to their children and grandchildren. Through this book, Daaji hopes to inspire readers to become more mindful of their actions and to strive to create a better future for their loved ones.
In the book The Wisdom Bridge by Kamlesh D. Patel, the author explains how rebuilding the village involves creating a space in which people can come together, share their stories, and build relationships with one another. This could be done through community gatherings and events, or by creating a safe online space where people can connect and learn from each other. The village is where children can learn the values of respect, empathy, and kindness, which are essential in raising a child with a healthy sense of self. Rebuilding the village is a process of creating a safe and supportive environment for children to grow up in.
Through personal stories, rituals, and teachings, the author provides a bridge between the wisdom of the ancients and the modern world. He explains how wisdom is the foundation of all aspects of life, and how it is essential to understanding the nature of reality. He also emphasizes the importance of sharing wisdom with others and examining our own beliefs and values. The Wisdom Bridge is a powerful reminder to seek, cultivate, and share wisdom, as it is essential to our lives and the wellbeing of our world.
The book The Wisdom Bridge by Kamlesh D. Patel presents scientific references and evidence to support each principle he presents. This is no small feat, as there are 117 references spread across 19 pages, sourced from around the world. It is incredible that Patel was able to remember all these books and pick the right quotes to support his claims. He does not expect readers to just take his word for it, but instead use the references to make their own conclusions. The diligence and commitment to detail in this book is truly remarkable.
This book was an invaluable resource that provided me with a wealth of knowledge and understanding of the nine principles of parenting. Not only did I thoroughly enjoy this book, but I am already beginning to implement the teachings in my own parenting. I am incredibly appreciative for my mentor for suggesting this book and for Daaji for his wonderful insight into parenting. This book is truly a lifesaver and I encourage everyone to read it.
The book contains practical life lessons that can be a game-changer in anyone's life, including children and those yet to be born. The author gives much-needed importance to more than a billion grandparents, who are living libraries of knowledge and wisdom that cannot be found through any other means. My deepest gratitude goes to the author for successfully conveying the pearls of wisdom in a simple, understandable language.
The book is well-written and engaging, and Patel's voice is both wise and reassuring. He provides practical advice and helpful frameworks to help parents navigate their way through the challenges of parenting. The book also contains inspiring stories and anecdotes that illustrate his points.
The Wisdom Bridge is an essential guide for parents who want to raise their children with love and understanding. It is a treasure trove of wisdom that will help parents cultivate meaningful relationships with their children and leave a legacy of love and lasting memories.